Archive of 'Chefs' category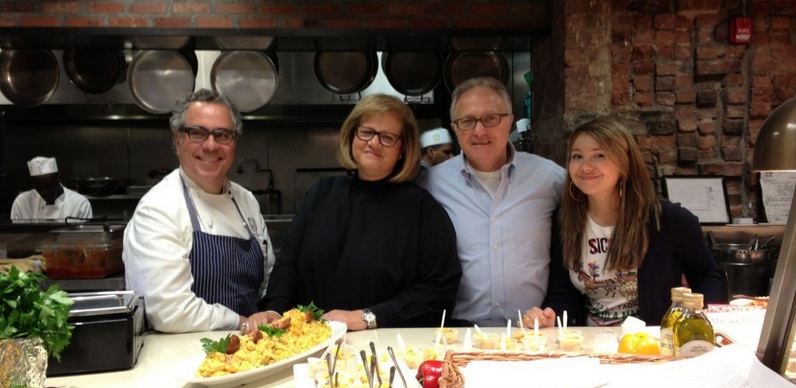 This weekend I will be posting three great Italian recipes, starting with this one.
I love this picture. I took it Saturday afternoon at Agata and Valentina on University Place, where their 20th anniversary celebration was in full swing! On the right are Agata, Joe, and Valentina, proprietors of one of my favorite markets in the city.
On the left is Michael Lomonaco, star inspiration and star chef. He was there to prepare Sicilian shrimp and cous cous. During the demonstration, Agata explained that although cous cous is from Morocco, it's close enough to Siciliy that they can almost kiss. It's no surprise then that cous cous made it's way to the southern tip of Italy. (Okay, it was a little surprising to me, because I don't think of cous cous as Italian at all.)
Here's his recipe for Sicilian shrimp and couscous. It makes a great light supper!
Sicilian Shrimp and Couscous
2013-04-15 14:02:34
Ingredients
1 pound fresh small shrimp, peeled and deveined, shells reserved for broth
2 cups bottled clam juice
2 tablespoons olive oil
1 small onion, diced (about 1/2 cup)
Pinch of saffron threads
2 tablespoons tomato paste
Kosher salt and freshly ground black pepper
1/4 teaspoon crushed red pepper flakes
2 cups packaged, quick-cooking couscous, rinsed under cold water and drained
1/4 cup shelled almonds, coarsely ground
Instructions
Pour the clam juice into a medium-sized saucepan, and bring to a gentle boil over medium heat. Add the shrimp shells, and lower heat to maintain a simmer. Cook for 20 minutes. Discard the shells.
Pour the oil into a large pot set over low heat. Add the onion and cook until softened but not browned, about four minutes. Add the saffron, tomato paste, 1/2 teaspoon salt, 1/2 teaspoon pepper, and red chile flakes. Cook, stirring constantly with a wooden spoon, until very fragrant, about two minutes.
Pour in the shellfish broth, and stir the bottom of the pot to dislodge any browned bits. Bring to a boil over high heat, and then reduce heat to a strong simmer. Stir the couscous, and cook until most of the liquid has been absorbed, about two minutes.
Season the raw shrimp with a pinch of salt and pepper, and then stir them into the couscous. Cover the pot and let the shrimp steam until firm and pink, about four minutes. When done, turn off the heat.
Divide the mixture between four large bowls. Garnish each with a tablespoon of the ground almonds. Adjust seasoning if necessary.
The Anonymous Eater http://www.theanonymouseater.com/