Archive of 'Desserts' category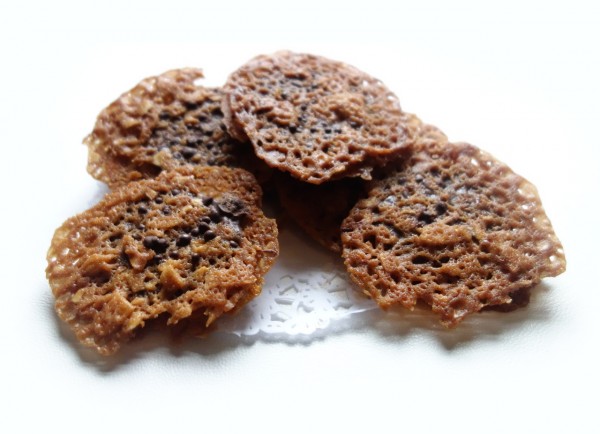 This weekend I am giving you three great Italian recipes in three days.
This recipe comes with a particularly good story.
The first year I knew my husband, before he was my husband, I already knew I was in love. I actually thought so as soon as I met him, but there was a moment soon after that confirmed it.
One hot summer evening, John (whom his family calls Giance, for Gancarlo, and most of his friends call JC) had to pick up something he'd been storing in his mom's garage (I can't remember what it was now, but maybe after he reads this post it will refresh his memory), and he invited me to come along. This was a very big deal.
I'd only met his mother once before. Also, I'd never been to her house. So that evening, as the sun was setting, we drove out of Manhattan and into Queens.
When we got there, John got busy doing whatever man thing he needed to do in the garage, and his mother took me on a tour of the house. I was most excited to see his old bedroom, the place where my future husband (yes, I thought of him that way even then), had slept and dreamed, and possibly, even dreamed of me.
At that time, Lil and I were still on formal ground. I remember looking around the room, and from the corner of my eye, I could see her gauging my reaction as I studied the framed family pictures she put on his old desk, and John's old belongings. At last my eyes rested on the wall, where there hung a framed letter from the astronaut Alan Shepard. As I read the letter, Lil told me that it was a response to a letter John had sent him, complete with illustrations. My husband is an artist, and even back then, Lil said, his talent was apparent.
I cannot begin to explain how touching I found it that John wrote to his hero, and I could imagine the hopeful excitement he felt when a letter arrived for him in the mail several weeks later, with Alan Shepard's name on the top left side of the envelope. I imagined my husband as a little boy ripping it open and pulling out the note to read it.
I just wanted to break down right there and confess to Lil, "I love your son so much. I promise I will take good care of him. Really, you don't have to worry."
But, I couldn't say any of that. It was too soon. What I could do though, was show her.
Soon enough I was invited to her house again, this time for dinner. Determined to impress, I researched Italian cookie recipes and found this one for Florentines. I spent an afternoon baking, and then arranged the cookies on a pretty plate to take for dessert.
Lil is a smart woman. I knew when she saw me bringing homemade cookies, homemade Italian cookies, she'd be on to me. And really, that was just fine. She could infer what she wanted. She would probably be right.
Almost ten years later, I am still fond of these Florentines. The thin, delicate cookies pack a surprisingly big crunch, and the zest of orange and chocolate do the tango in such a way as to compliment, but not overpower, each other. Sort of like me and John. The cookies look fancy, but are not all that hard to make. Some good parchment paper or a Silpat mat are the only extravagant tools you need.
Now that John and I are married, and we have a family of our own, these Florentines still come in handy. If I find myself exhausted, and irrational at times, as is easy to feel when you are tired, stressed, and have small children, I think of that night at his house when I first saw his old bedroom. Imagining the little boy he was then, the excitement that prompted him to send an illustrated letter to his hero, somehow calms me, and keeps me from flying too far off the handle. Not always, but usually.
As for the Florentines, they can also be quite romantic. After all, they're made of lace.
Florentines
2013-04-15 14:44:18
Ingredients
1 3/4 cups sliced, blanched almonds (about 5 ounces)
3 tablespoons all-purpose flour
Finely grated zest of 1 orange (about 2 tablespoons)
1/4 teaspoon fine salt
3/4 cup sugar
2 tablespoons heavy cream
2 tablespoons light corn syrup
5 tablespoons unsalted butter
1/2 teaspoon pure vanilla extract
1/4 cup finely chopped chocolate pieces
Instructions
Position a rack in the center of the oven and preheat to 350 degrees F. Line a baking sheet with a silicone baking mat or parchment paper.
Pulse the almonds in a food processor until finely chopped, but not pasty. Stir together the nuts, flour, zest and salt in a large bowl.
Put the sugar, cream, corn syrup and butter in a small saucepan. Cook over medium heat, stirring occasionally, until mixture comes to a rolling boil and sugar is completely dissolved. Continue to boil for 1 minute. Remove from heat and stir in the vanilla, then pour mixture into almond mixture and stir just to combine. Set aside until cool enough to handle, 30 minutes.
Scoop rounded teaspoons (for 3-inch cookies) or rounded tablespoons (for 6-inch cookies) of batter and roll into balls. Place on a baking sheet covered with parchment or a Silpat mat, leaving about 3 to 4 inches between each cookie since they spread. Sprinkle with the chocolate.
Bake 1 pan at a time, until the cookies are thin and an even golden brown color throughout, rotating pans halfway through baking time, about 10 to 11 minutes. Cool on baking sheet for 5 minutes, then transfer to racks to cool. Repeat with remaining batter. Serve.
Adapted from Food Network
The Anonymous Eater http://www.theanonymouseater.com/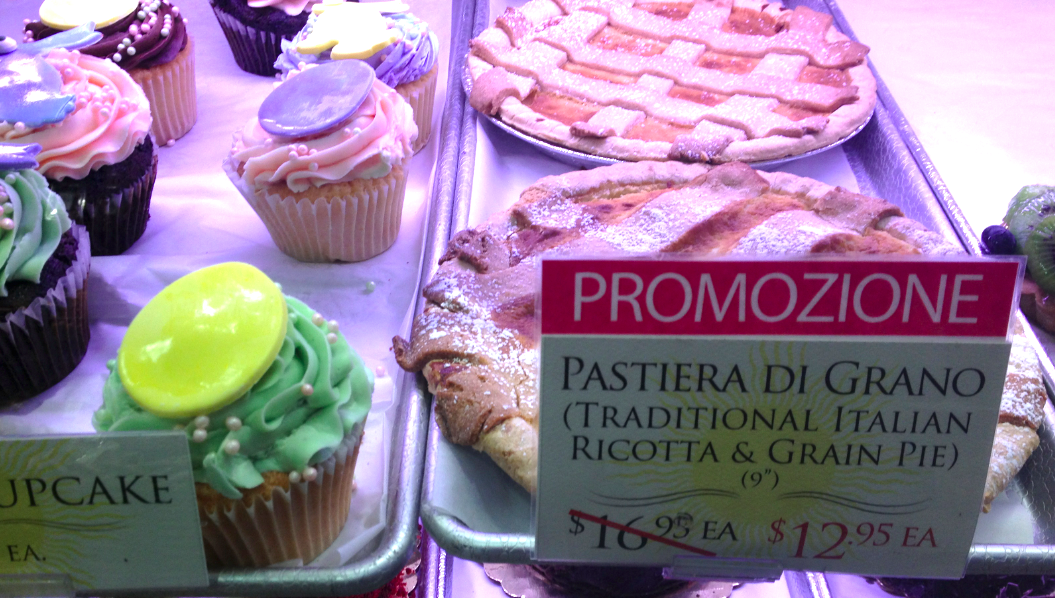 I've been part of my husband's Italian family for many years, but this is the first year I've heard of Pastiera del Grano. Do you know about this? It's a Neopolitan Easter pie, made from grain and ricotta. Scented with hints of citrus, it's delicious, and like most Italian desserts, not too sweet.
I'm searching for a good recipe to try out. I will post it when I find one.
In the meantime, here's the pie we enjoyed. It's from Agata and Valentina, one of my favorite supermarkets in the city. They have all sorts of specialties, and their meatballs are worthy of my Italian mother in law's approval.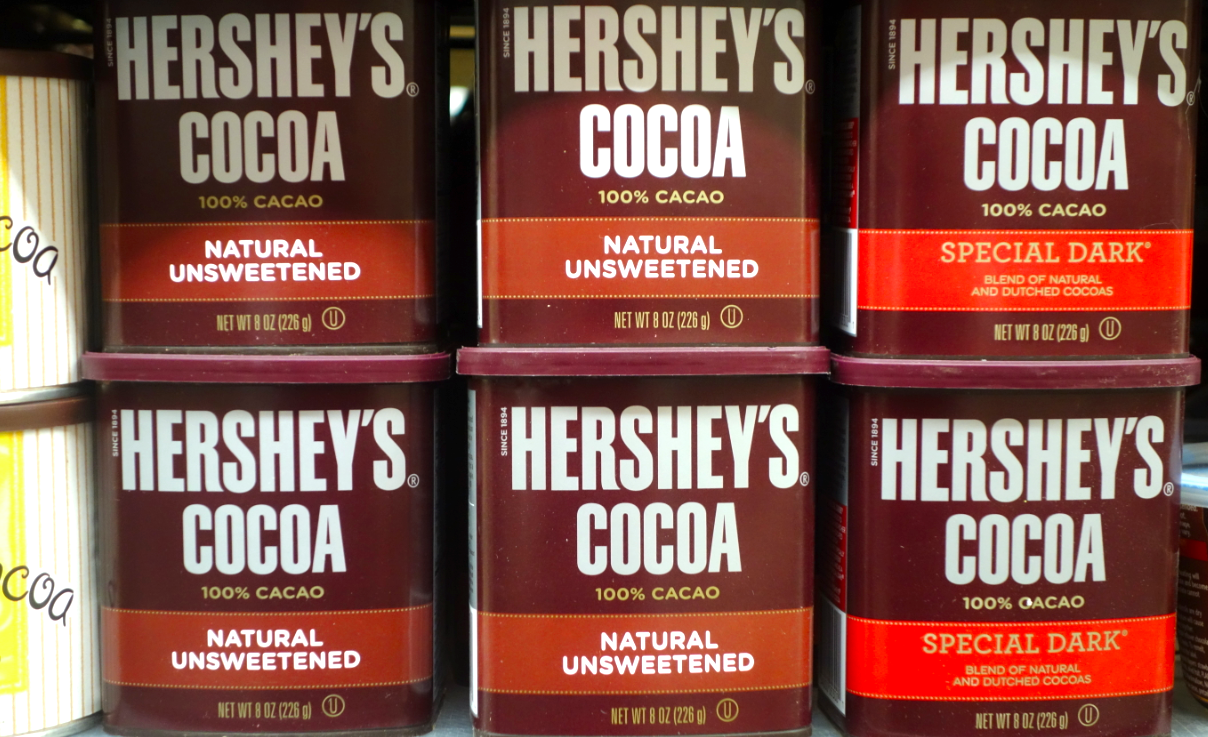 America's test kitchen recently conducted a survey to determine the best tasting supermarket cocoa powder. It's no surprise Hershey's Cocoa won. I love Hershey's Cocoa powder. (They also make a mean chocolate fudge sauce.)
Every year at Passover Aunt Cousin Ceil makes a Fallen Chocolate Souffle Cake, that's beyond amazing. It's from the cookbook Chocolate and the Art of Low-Fat Desserts by Alice Medrich. This cake is so good, it's the kind of thing I could eat year-round, but because Ceil only makes it during Passover, it's that much more special. This year she made it with Hershey's Cocoa, and I thought it was a notch better, but maybe that's because I haven't had it in a while.
Now I am going to tell you something about this dessert that might change your opinion before you even attempt to make it. As you might have suspected, it's low fat. Before you move on to the next post, let me explain that this is the kind of low fat that you eat, and then smirk to yourself that your hostess is not as clever as she thinks, and there's no way she's pulling one over on you, because this dessert is full on high fat chocolate lipid love. But really, it's low fat, and when you tell people, they won't believe you either.
Today I emailed Aunt Cousin Ceil to tell her I'm posting the recipe.
This is what she wrote back:
That cake from Passover never ceases to amaze me. I know what I put in it and can never believe that it is low fat. I meant to tell you that I get almond meal from Trader Joe's and use it instead of grinding the almonds in that torte. It saves so much time and trouble and works fine. I am always one for shortcuts.
By the time I remembered to take a picture of the cake at our seder, it was gone.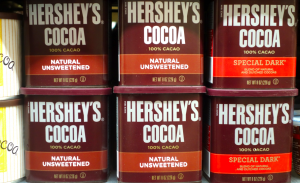 Fallen Chocolate Soufflé Cake
2013-04-12 09:32:54
Ingredients
¼ Cup (1 oz) Blanched Almond
3 Tbsp All-Purpose Flour
3 oz Bittersweet or Semisweet Chocolate, finely chopped
½ Cup Unsweetened Cocoa Powder (Natural or Dutch-Process)
1 Cup Sugar
½ Cup Boiling Water
2 Large Eggs, separated, at room temperature
1 Tbsp Brandy
2 Large Egg Whites, at room temperature
Scant ¼ tsp Cream of Tartar
2 to 3 tsp Powdered Sugar
Lightly Sweetened Whipped Cream for topping (optional)
Instructions
An 8 x 3 Springform Pan or Cheesecake Pan with a removable bottom
Position a rack in the lower third of the oven and preheat the oven to 375˚F. Place a round of parchment paper in the bottom of the cake pan and spray the sides with vegetable oil spray.
In a food processor or blender, grind the almonds with the flour until very fine.
Combine the chocolate, cocoa, and ¾ cup of the sugar in a large bowl. Pour in the boiling water and whisk until mixture is smooth and the chocolate is completely melted. Whisk in the egg yolks and brandy; set aside.
Combine the egg whites and cream of tartar in a medium bowl. Beat with an electric mixer on medium speed until soft peaks form. Gradually sprinkle in the remaining ¼ cup sugar and beat on high speed until stiff but not dry.
Whisk the flour and almond mixture into the chocolate. Fold about a quarter of the egg whites into the chocolate mixture to lighten it, and then fold in the remaining egg whites. Scrape the batter into the pan and level the top if necessary.
Bake for 30 to 35 minutes, until a toothpick or wooden skewer inserted into the center comes out with a few moist crumbs clinging to it. Cool the pan on a wire rack. The torte will sink like a soufflé.
Taking care not to crack the edges of the torte, run a knife between the torte and the sides of the pan to release the cake. Remove the sides of the pan and invert the cake onto a plate. Remove the pan bottom and paper liner. Turn right side up on a platter. Using a fine mesh sieve, sift a little powdered sugar over the top. Serve with a little whipped cream, if you desired.
Adapted from Chocolate and the Art of Low-Fat Desserts by Alice Medrich
Adapted from Chocolate and the Art of Low-Fat Desserts by Alice Medrich
The Anonymous Eater http://www.theanonymouseater.com/