Archive of 'Ice Cream' category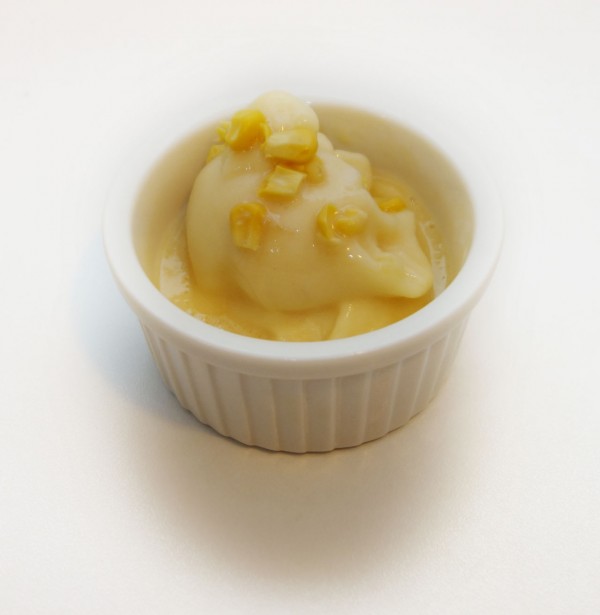 Are you so excited summer is here? I love all the fresh produce, and all the different ways it inspires me to cook.
One of my favorites is corn. Maryland corn, to be exact. It's so sweet and crisp, and when you add a little butter, salt and pepper, there are few things I like better.
I have a great recipe for corn chowder, which is one of my favorite soups in winter. For summer, I prefer my soups cold, and a cold corn chowder? Isn't that really just ice cream?
I discovered corn ice cream when I first moved to New York. It sounded like such a novelty then, but now most ice cream shops offer it, along with other flavors that no longer seem exotic, like wasabi, or red bean. Sweet corn is still one of my favorites. It's not as corny tasting as you would imagine, but has more of a sweet, creamy flavor, that's a definite contrast to popcorn.
Here's a great recipe that's easy to make. You do need an ice cream maker. This is one of those appliances that I go back and forth over. After debating the merits of space and the number of times I planned to make ice cream, I decided it was worth it to have an ice cream maker. Instead of getting the standard size, I bought an attachment for my Kitchen Aid. It works well, and the result is just as tasty.
Sweet Corn Ice Cream
2013-06-05 15:44:46
Ingredients
4 ears fresh corn, shucked
2 cups milk
2 cups heavy cream
1 1/2 cup sugar
9 large egg yolks
5 large egg yolks
Read more at: http://www.foodnetwork.com/recipes/food-network-kitchens/sweet-corn-ice-cream-recipe/index.html?oc=linkback
Instructions
Using a large knife, slice the kernels off the corn cobs and place into a large saucepan. Break the cobs into thirds and add them to the pot along with the milk, cream and 1/2 cup of the sugar
Bring the mixture to a boil, stirring often, then turn off the heat. Discard the cobs. Using an immersion blender or a blender, puree the corn kernels with the milk and cream. Infuse for 1 hour.
Bring the mixture back to a simmer, then turn off the heat. In a small bowl, whisk the egg yolks and remaining 1/4 cup of sugar. Add a cup of the hot cream to the yolks, stirring constantly so they don't curdle. Add the yolk mixture to the saucepan, stirring. Cook over medium-low heat, stirring constantly, until the custard thickens enough to coat the spoon, about 10 minutes.
Recipe by Chef Instructor Kat Randazzo
Transfer the hot custard to a blender and pulse until smooth (keep the filler cap slightly open to let steam escape). Strain the custard through a fine-mesh sieve into a large bowl; discard the solids. Stir often until the mixture cools to room temperature. Lightly press plastic wrap directly against the surface of the custard to prevent a skin from forming. Chill until cold, about 3 hours. (For faster chilling, set the bowl of custard in a bowl of ice water and stir until cold.)
Freeze the cold custard in an ice cream maker according to the manufacturer's directions. Transfer to an airtight container and freeze until firm, 2 to 3 hours.
Read more at: http://www.foodnetwork.com/recipes/food-network-kitchens/sweet-corn-ice-cream-recipe/index.html?oc=linkback
Adapted from Epicurious
Adapted from Epicurious
The Anonymous Eater http://www.theanonymouseater.com/