Archive of 'Passover Desserts' category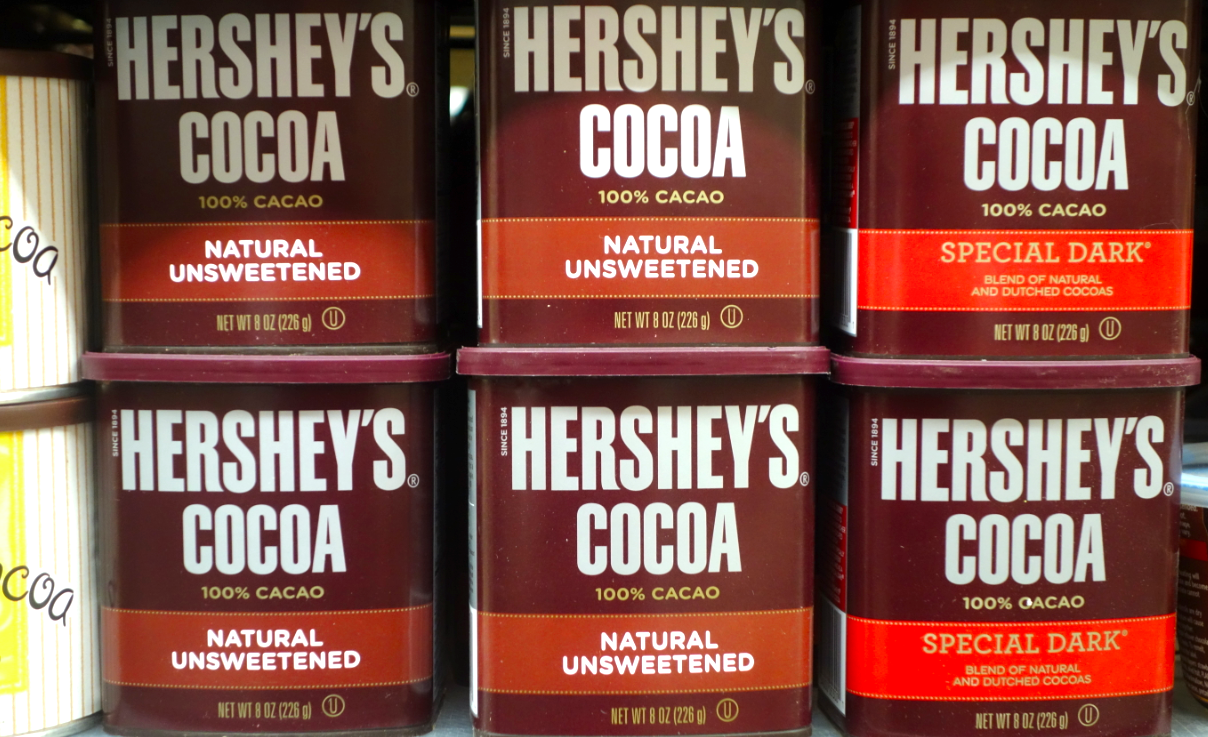 America's test kitchen recently conducted a survey to determine the best tasting supermarket cocoa powder. It's no surprise Hershey's Cocoa won. I love Hershey's Cocoa powder. (They also make a mean chocolate fudge sauce.)
Every year at Passover Aunt Cousin Ceil makes a Fallen Chocolate Souffle Cake, that's beyond amazing. It's from the cookbook Chocolate and the Art of Low-Fat Desserts by Alice Medrich. This cake is so good, it's the kind of thing I could eat year-round, but because Ceil only makes it during Passover, it's that much more special. This year she made it with Hershey's Cocoa, and I thought it was a notch better, but maybe that's because I haven't had it in a while.
Now I am going to tell you something about this dessert that might change your opinion before you even attempt to make it. As you might have suspected, it's low fat. Before you move on to the next post, let me explain that this is the kind of low fat that you eat, and then smirk to yourself that your hostess is not as clever as she thinks, and there's no way she's pulling one over on you, because this dessert is full on high fat chocolate lipid love. But really, it's low fat, and when you tell people, they won't believe you either.
Today I emailed Aunt Cousin Ceil to tell her I'm posting the recipe.
This is what she wrote back:
That cake from Passover never ceases to amaze me. I know what I put in it and can never believe that it is low fat. I meant to tell you that I get almond meal from Trader Joe's and use it instead of grinding the almonds in that torte. It saves so much time and trouble and works fine. I am always one for shortcuts.
By the time I remembered to take a picture of the cake at our seder, it was gone.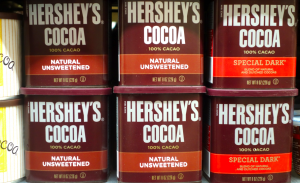 Fallen Chocolate Soufflé Cake
2013-04-12 09:32:54
Ingredients
¼ Cup (1 oz) Blanched Almond
3 Tbsp All-Purpose Flour
3 oz Bittersweet or Semisweet Chocolate, finely chopped
½ Cup Unsweetened Cocoa Powder (Natural or Dutch-Process)
1 Cup Sugar
½ Cup Boiling Water
2 Large Eggs, separated, at room temperature
1 Tbsp Brandy
2 Large Egg Whites, at room temperature
Scant ¼ tsp Cream of Tartar
2 to 3 tsp Powdered Sugar
Lightly Sweetened Whipped Cream for topping (optional)
Instructions
An 8 x 3 Springform Pan or Cheesecake Pan with a removable bottom
Position a rack in the lower third of the oven and preheat the oven to 375˚F. Place a round of parchment paper in the bottom of the cake pan and spray the sides with vegetable oil spray.
In a food processor or blender, grind the almonds with the flour until very fine.
Combine the chocolate, cocoa, and ¾ cup of the sugar in a large bowl. Pour in the boiling water and whisk until mixture is smooth and the chocolate is completely melted. Whisk in the egg yolks and brandy; set aside.
Combine the egg whites and cream of tartar in a medium bowl. Beat with an electric mixer on medium speed until soft peaks form. Gradually sprinkle in the remaining ¼ cup sugar and beat on high speed until stiff but not dry.
Whisk the flour and almond mixture into the chocolate. Fold about a quarter of the egg whites into the chocolate mixture to lighten it, and then fold in the remaining egg whites. Scrape the batter into the pan and level the top if necessary.
Bake for 30 to 35 minutes, until a toothpick or wooden skewer inserted into the center comes out with a few moist crumbs clinging to it. Cool the pan on a wire rack. The torte will sink like a soufflé.
Taking care not to crack the edges of the torte, run a knife between the torte and the sides of the pan to release the cake. Remove the sides of the pan and invert the cake onto a plate. Remove the pan bottom and paper liner. Turn right side up on a platter. Using a fine mesh sieve, sift a little powdered sugar over the top. Serve with a little whipped cream, if you desired.
Adapted from Chocolate and the Art of Low-Fat Desserts by Alice Medrich
Adapted from Chocolate and the Art of Low-Fat Desserts by Alice Medrich
The Anonymous Eater http://www.theanonymouseater.com/
Please click here for the original post and the recipe for almond macaroons.
Here is the recipe for chocolate cinnamon mandelbread.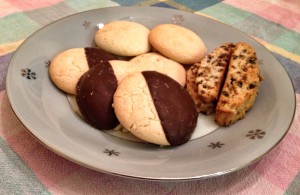 Chocolate Cinnamon Mandelbread
2013-04-11 22:23:14
Ingredients
Chocolate Cinnamon Mandelbread
1 cup oil
1 cup sugar
3 eggs
1 tbsp. orange juice
Zest of 1 lemon
1 tsp. vanilla
2 tsp. cinnamon
1 1/2 cups cake meal
3/4 cup potato starch
1/2 cup semi-sweet chocolate chips
1/2 cup chopped pecans
Instructions
Preheat oven to 350 degrees.
Beat oil and sugar with a mixer on low speed. Add eggs juice, lemon zest, vanilla, and cinnamon. Fold in the cake meal and potato starch, chocolate chips, and nuts.
Make two long logs from the dough. Sprinkle sugar and cinnamon on top. Bake for 25 minutes or until the edges turn golden brown.
Remove from oven and while still warm, cut into one inch slices the long way. Put mandlebread back on the baking sheet face up ad sprinkle with more cinnamon and sugar. Bake for 15 minutes.
The Anonymous Eater http://www.theanonymouseater.com/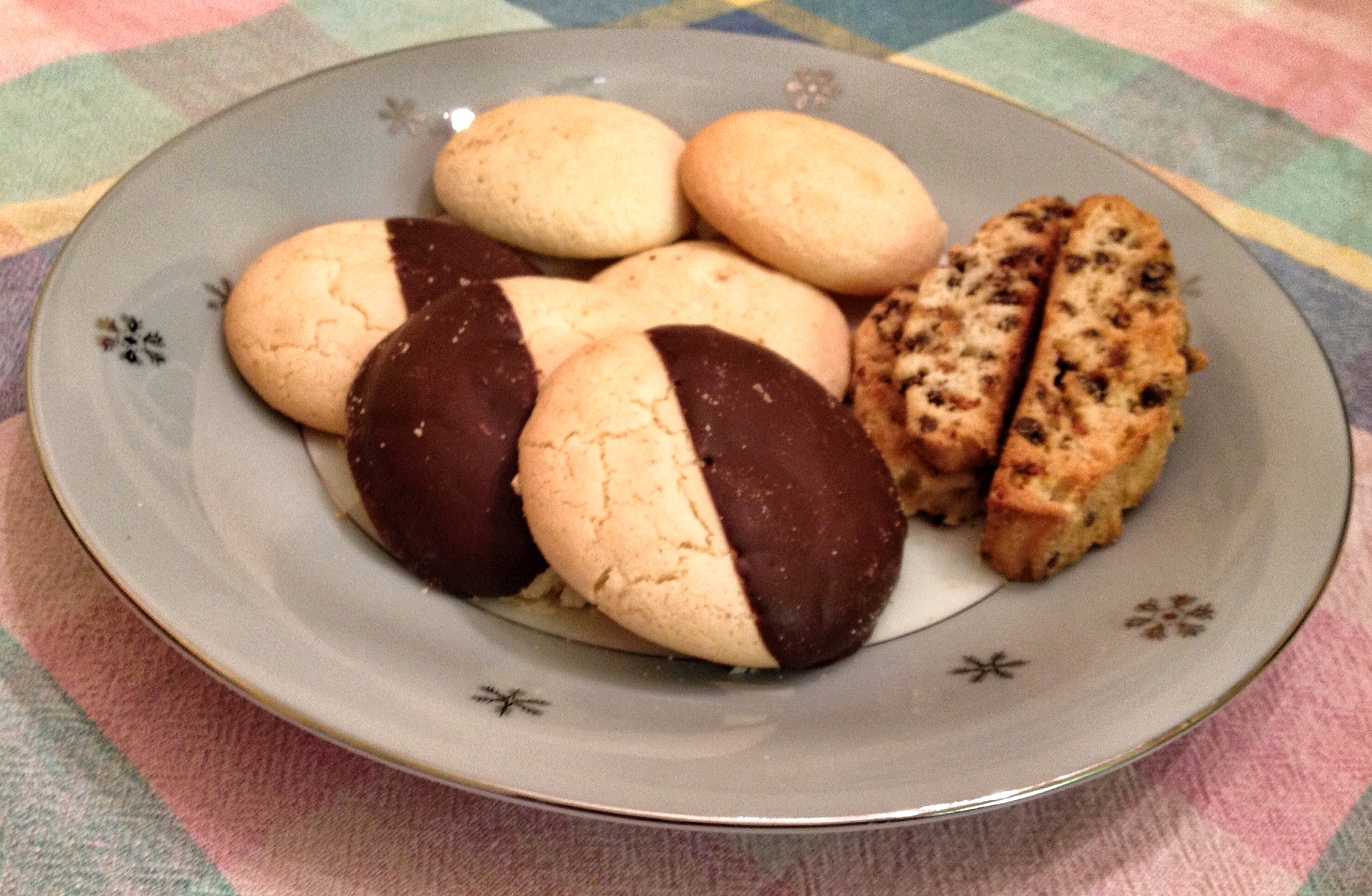 [The title of this post reminds me of the CD Bagels and Bongos by Irving Fields. It's a great little jazz album, and I've seen him play live. You should check it out.]
Tonight is the first night of Passover. And it's snowing!
I'm not kidding, big wet chunks are coming down hard. So much for celebrating Spring.
Passover is really not a holiday known for it's food. We don't eat anything leavened or fermented, so carb-wise the choices are limited. For dinner we're having chicken soup, using the recipe from yesterday's post, and the traditional brisket.
Here's what we have for dessert. On the left are chocolate-dipped almond macaroons. They're worth a closer look. Why? The traditional macaroon served at Passover is coconut. They're large and rounded, kind of like how cookie dough looks when you drop it on the baking sheet. But my mother the rebel is serving almond macaroons at our seder. They taste more like chewy almond cookies, and they are a must-bake in my house any time of year, not just Passover.
On the right are mandelbread, made with cake meal and potato starch so they're unleavened. These are the Jewish version of biscotti. I'm usually not a fan, but this recipe is outstanding.
The recipe for almond macaroons is below. Please click here for the recipe for chocolate cinnamon mandelbread.
Notice the plate. There are snowflakes on the plate. Not what one usually expects at a seder, right?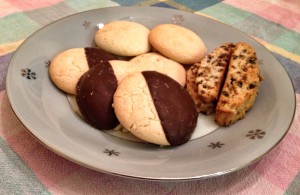 Almond Macaroons
2013-04-11 22:16:37
Ingredients
1 1/2 cups ground almonds
1 cup sugar
3 egg whites
1 tsp. almond extract (If making for Passover, make sure the extract is kosher for Passover)
zest of 1 lemon
1 cup semi-sweet chocolate chips
Instructions
Preheat oven to 300 degrees.
Beat the egg whites with a mixer until they form soft peaks. Add the sugar, almond extract and lemon zest. Beat until the whites are stiff. Gently fold in the almonds.
Using a tablespoon, drop onto a cookie sheet lined with parchment paper. Cookies should be two inches apart.
Bake for 20 minutes.
When cookies are completely cool, melt the chocolate chips in a double boiler. Dip half of each cookie in the chocolate. Set on parchment paper to cool.
The Anonymous Eater http://www.theanonymouseater.com/