Archive of 'Pasta' category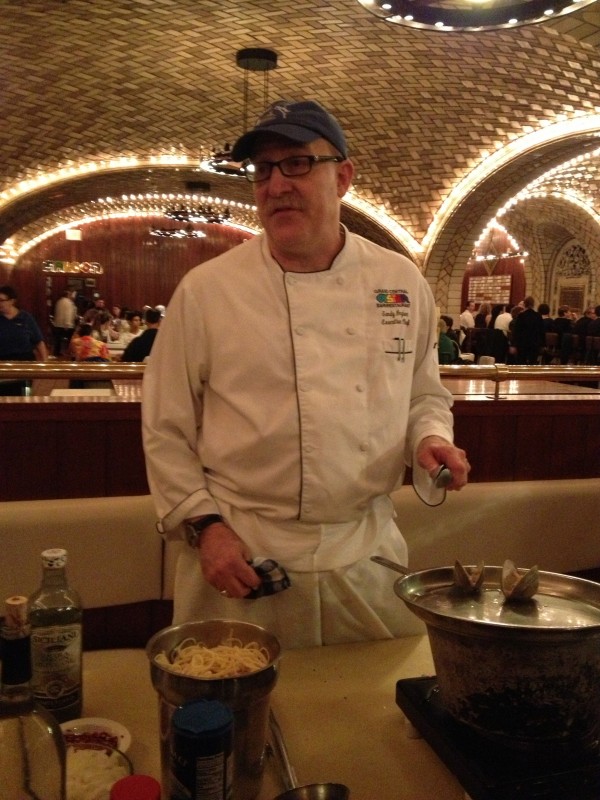 Ever since I met my mother's husband David, my second dad, I've never been able to look at an oyster the same way.
David was raised in the fifties. As with most men of this era, he has certain quirks that are indicative of the time in which he grew up. We all have those, I guess. Anyway, David is fond of putting a little dimuntive at the end of certain words. His choice of phrase is "ster." So vitamins are pillsters, the cat is the catster, and when he puts on his socks, they become his socksters. You get the point.
So now, whenever I see an oyster, I think of David, and I can't help but hear him sigh and say "oy veyster," or "oyster" for short. I will never be able to eat an oyster without hear it complaining oy ster again.
Last week John and I were given tickets to the 100th anniversary celebration of the Oyster Bar, so we thought let's go. Why not?
I'm not a huge oyster fan, but we still thought it would be fun. They had a great band playing rock and bluegrass, and of course, all the oysters you could eat.
My favorite part was the cooking demonstration by Sandy Ingber. He made a delectable linguini and white clam sauce. There's nothing like watching a chef prepare something you actually get to sample. That's the only problem with the Food Network I think, you can never sample the goods.
Linguine with White Clam Sauce
2013-05-15 14:25:24
Ingredients
Extra-virgin olive oil
9 cloves garlic, smashed
5 dozen littleneck clams, scrubbed under cold running water
1 cup white wine
1/2 cup water
1 large pinch crushed red pepper flakes
1 pound linguine
2 tablespoons butter
2 tablespoons chopped Italian parsley leaves
2 tablespoons chopped oregano leaves
1 cup grated Parmigiano-Reggiano, optional, plus shavings for garnish
Kosher salt
Instructions
Coat a large saute pan with olive oil and add half the garlic cloves. Bring the pan to a medium- high heat and cook until the garlic becomes golden brown. When the garlic is golden brown and very aromatic, remove it and discard, it has fulfilled its garlic destiny. Put 3 1/2 dozen clams in the pan with the wine and 1/2 cup of water. Cover the pan and bring it to a boil over medium heat. Cover and cook until the clams open, about 10 minutes. Remove the clams from the pan and reduce the cooking liquid. Let the clams cool slightly, then remove them from the shells and reserve. Discard the shells. Pour the cooking liquid into a measuring cup.
Bring a large pot of well salted water to a boil over medium heat.
Coat the same saute pan again with olive oil and add the remaining garlic cloves and a large pinch of crushed pepper flakes. Bring the pan to a medium-high heat and cook until the garlic becomes golden brown. When the garlic is golden brown and very aromatic, remove it and discard, it has fulfilled its garlic destiny. Add the remaining raw clams and reserved clam cooking liquid to the pan. When adding the reserved clam liquid, be sure to check for sand and grit in the bottom, you may lose the last couple of tablespoons of juice but that is better than sand in your pasta! Cover and cook until the clams open.
While the clams are cooking, drop the linguine into the salted boiling water and cook until the pasta is very "al dente" maybe a minute or so less than the box directs.
Remove the cooked clams in their shells from the pan and keep warm. Add the butter and cooked clams that have been removed from their shells back to the pan. Bring the liquid to a boil and toss in the cooked pasta and the herbs. Cook the pasta together with the sauce until the sauce clings to the pasta. Turn off the heat and toss in the grated Parmigiano-Reggiano, if using, and finish with a drizzle of big fat finishing oil. Toss or stir vigorously to combine.
Divide the pasta into serving dishes and garnish with the clams that are still in their shells and a little more shaved Parmigiano-Reggiano, if desired.
Read more at: http://www.foodnetwork.com/recipes/anne-burrell/linguine-with-white-clam-sauce-recipe/index.html?oc=linkback
The Anonymous Eater http://www.theanonymouseater.com/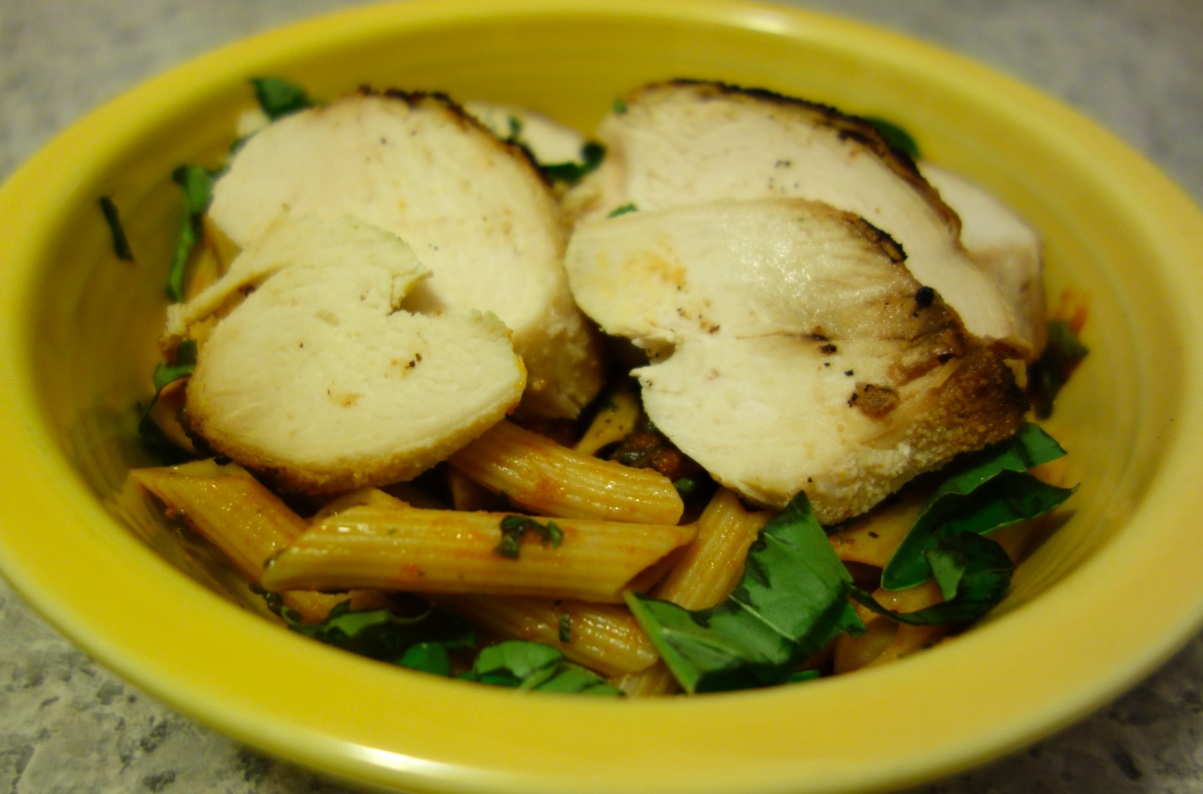 This morning started out chilly, and then the weather turned warm. We went to the park, where John and I chased Luci around for three hours. I'm not exaggerating. She slept the whole afternoon.
I got a little break too, but not before making dinner. In about half an hour I prepared this meal, which was so good, and so easy.
First I chopped some basil, then stirred it in to tomato sauce from a jar. I do feel like I'm cheating a little when I use pre-made sauce, but after a lot of meditation on the subject, I've come to accept that I cannot make everything homemade. I used a plain tomato sauce from Trader Joe's. They have a ton of varieties, and I recommend trying them all until you find your favorite.
While the sauce was cooking, I boiled whole wheat pasta. I like my pasta al dente. As soon as it was past the point of no longer crunchy, I drained it and tossed it with the sauce. Then I sliced the leftover grilled chicken, and placed it on top along with some more fresh basil.
Dinner was delicious. But for me, the best part was being able to make it while Luci was sleeping, and then getting my own little moment to myself.