Archive of 'Roasted Vegetables' category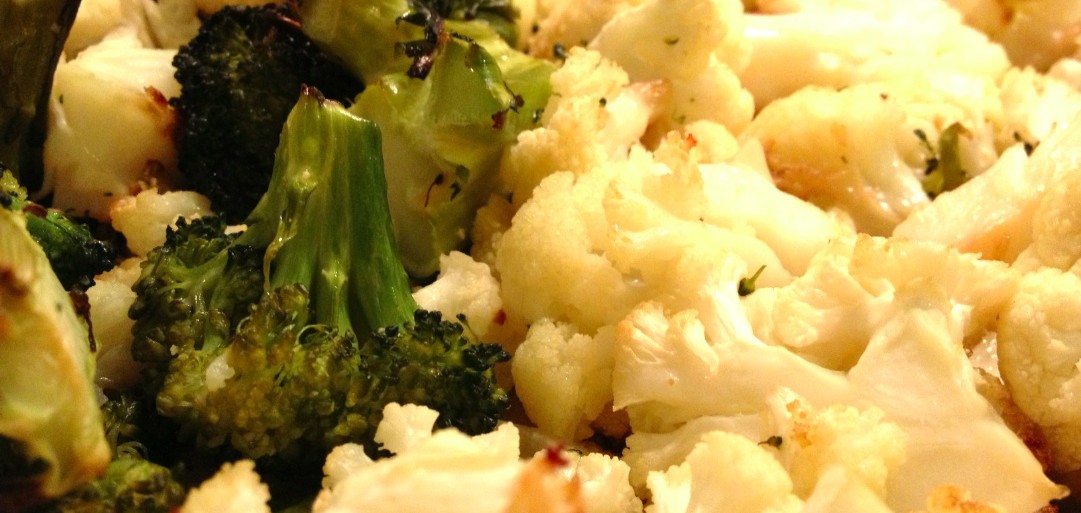 I love my veggies, and there is no veggie in this world that can't be made to taste good by rubbing a little olive oil on it, adding some salt and pepper, and roasting in the oven until it's nice and tender.
Roasting a vegetable adds a whole other layer of depth. If you cook them long enough at 350 degrees, they caramelize in the olive oil and take on an almost nutty flavor. They're also filling and healthy. I'm not sure if it's the touch of olive oil or not, but they taste so much more substantial to me than a raw veggie, even the ones coated in dip.
I usually make a pan or two of roasted vegetables a week. I keep them on hand for meals, and for snacking. The next time you're craving something substantial or sweet, try this recipe instead, and see if it doesn't fill you up.
Roasted Vegetables
My favorites to roast are broccoli, cauliflower, and string beans. Brussel sprouts, zucchini and corn are nice too.
For every pound of vegetables you roast, toss veggies in 2 tbs. olive oil and salt and pepper to taste.
Place in a shallow pan so vegetables aren't crowding each other. If roasting broccoli, place upside down in the pan so the top doesn't burn.
Place on the middle rack of an oven preheated to 350 degrees.
Roast for half an hour or until desired tenderness is reached.