Archive of 'Salad' category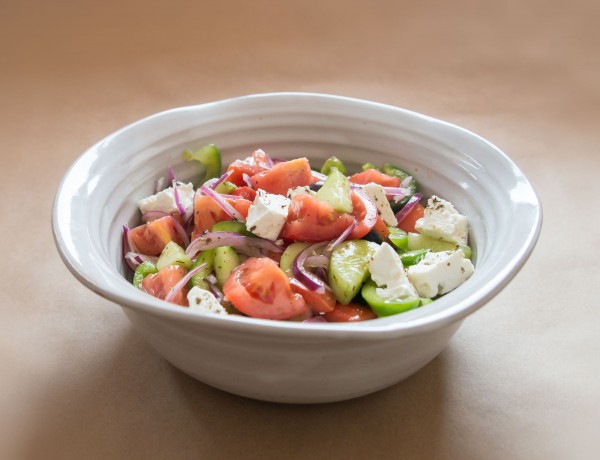 A Greek salad should be so easy to make, right?
Combine slices or chunks (depending on your preference) of cucumber, red onion, tomato and olives, add the feta, and pour on the dressing. It's so easy, right?
Not if you prefer your dressing homemade, as I do. Bottled dressings are good in a pinch, but I prefer the homemade version every time. I like knowing exactly what's in my dressing, and one made from scratch tastes a lot fresher. Please forgive me, Paul Newman.
There's a Greek restaurant we go to often. The food is good, but more importantly, they are very kid-friendly in there. It might be because the place is so loud, but they never notice when Luci screams across the table. They also happen to have an abundance of high chairs that aren't broken. Again, in New York, this is unusual. You'd be surprised at how many restaurants don't have high chairs, or have the same three broken ones that have been sitting around since the seventies. It's their way of telling you your child is not welcome, without saying a word. Very clever, those little restaurants.
The Greek place we like has a good Horiatiki salad. That means Greek salad to those of you who don't speak Greek. Okay, I don't either, but like my Hindi, I'm fairly conversant in Greek about vegetables and desserts. I could hold my own at the farmer's market in Athens if I had to.
Anyway, I've been obsessed with the feta at this restaurant ever since they opened. One day, on an early morning walk with Luci, I saw them unloading large tins of it, and I've been ordering it on Amazon ever since. (I swear it really was a walk and not a reconnaissance mission.)
Their dressing, on the other hand, has been much tougher to decode. There's a blend of herbs in there that's been hard to sniff out. After many attempts, I think I finally nailed it. Since I've made it very clear that I dislike when anyone hoards a recipe, I'm going to share this dressing with you. You can also use it on any fresh summer vegetables or avocado. I even put it on grilled corn.
Greek Dressing
2013-06-20 17:39:09
Ingredients
1 cup good quality extra virgin olive oil
1 cup red wine vinegar
2 tps garlic powder
2 tps onion powder
2 tbs fresh chopped oregano
2 tbs fresh chopped basil
1 tbs fresh chopped marjoram
1 1/2 teaspoons fresh black pepper
1 teaspoon salt
2 teaspoons dijon mustard
juice of 1 lemon
Instructions
Combine all ingredients and whisk together.
The Anonymous Eater http://www.theanonymouseater.com/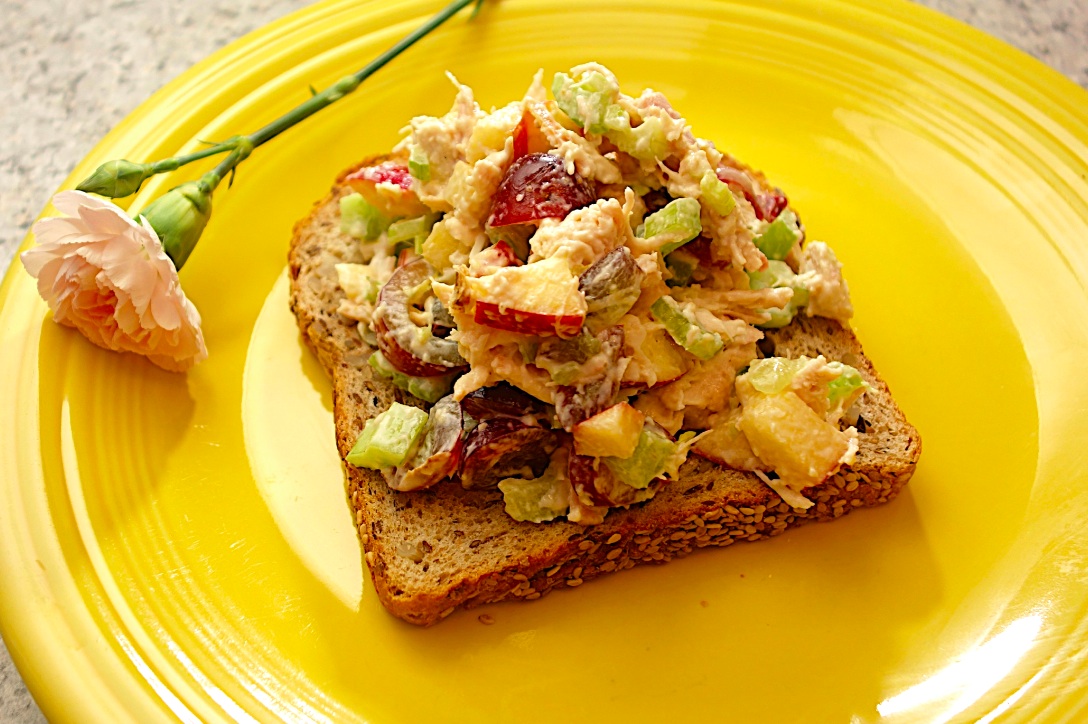 Earlier in the week I posted my grandmother's chicken soup recipe. One of the secrets to her soup is simmering the chicken in the pot all day. It adds a rich, layered flavor that goes beyond the bullion soup starter. I believe this is the only way to coax the flavors from the chicken, while giving the soup that certain taste that makes everyone ask for the recipe.
Simmering the chicken for a long time has a dual purpose. It also flavors the meat well, so you don't have to add any spices to the salad. When I make chicken soup, I always get a hefty chicken, just so I have lots of extra meat to make this salad.
What I love about a good chicken salad is that you can really stretch the meat far. It's great for someone (me) trying to lose her baby weight, because it's filled with crunchy vegetables and studded with sweet fruit. Hitting all those different flavor and texture notes is highly satisfying and very filling.
As with all recipes, this is just one variation. It's a great one to experiment with, since you can add the fruit and vegetables you like best, and even blanch or steam them if you don't like raw. This salad always tastes better the second day.
Please share your own take on it in the comments.
Soup Meat Chicken Salad
2013-04-12 09:36:40
Ingredients
3 cups cooked, shredded chicken
1 cup chopped apple
1 cup chopped celery
1 cup sliced red grapes
2 heaping tbs. mayonnaise (I like the kind made from olive oil.)
salt and pepper to taste
Instructions
Mix all ingredients in a bowl and serve.
The Anonymous Eater http://www.theanonymouseater.com/