Archive of 'Vegetables' category
I love this recipe!
Including prep time, you can make it quickly, and it travels well in the summer heat, so it's perfect for a picnic or a bar-be-que.
The trick is to sautee the garlic until it's crisp, and transfer it to a plate so it doesn't burn. The garlic chips stand up well to the spinach, and don't get soft if served the same day.
The lemon zest on top adds another layer of fresh flavor, not to mention a splash of color.
The best part? You only need 1 tablespoon of olive oil for the whole dish, and it serves 3 – 4.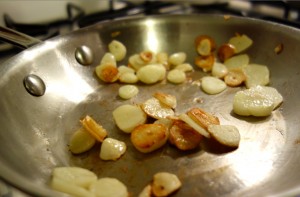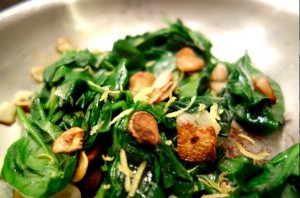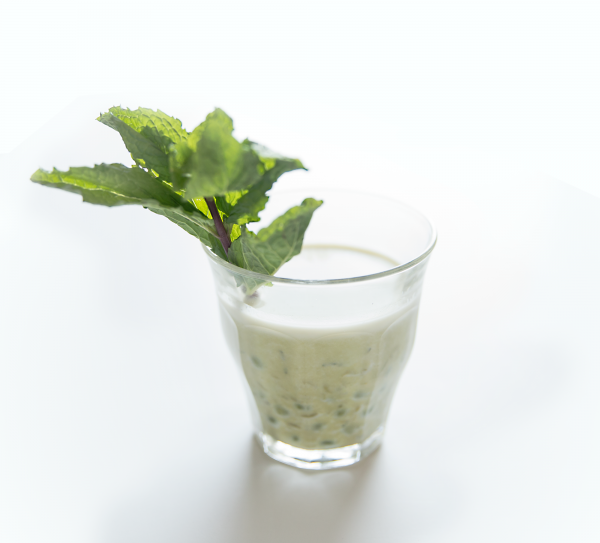 I think I've mentioned this before, but the first food Luci ever said by name was pea. For that reason, peas now make me sort of nostalgic. It's actually fitting that she said pea first, because when I was pregnant, I couldn't get enough of them. Even now, whenever I go to one of my favorite Indian Restaurants in the city, Jackson Diner, I always order my rice with extra mattar. That means extra peas in Hindi. (I'm not an expert in Hindi by any means, but if you wanted to have a conversation about vegetables, I could fluently profess my love for alu, gobi, and bindi.) It made me laugh when the first time we brought Luci in for a meal, they served her rice with extra peas on the side.
This pea soup is a great treat for summer, and a nice way to lift yourself out of the gazpacho doldums if that's the only chilled soup you're used to. I love that it makes clever use of mint, by freezing it into cubes that you place in the soup. As the cubes melt, the soup changes flavor and consistency. Isn't it nice how one little bowl can contain such a variety, using so few ingredients? (Mint ice cubes are also great in lemonade, by the way.)
I modified this recipe by Martha Stewart to include whole peas for texture, and white pepper for a little extra kick. You might also consider a dash of cayenne, or a touch of minced garlic on top to finish it.
Sweet Pea Soup
2013-06-17 15:45:05
Ingredients
1 large bunch fresh mint, stems removed
2 tablespoons unsalted butter
1 eight-ounce white onion, chopped
1 teaspoon salt
1/2 teaspoon freshly ground black pepper
6 cups Homemade Vegetable Stock, plus more for thinning
2 1/2 pounds sweet peas, shelled, or 4 ten-ounce boxes frozen peas, plus 1 cup of whole peas
Instructions
Bring 3 cups water to a boil. Remove from heat, add mint, reserving a few sprigs for garnish, and let steep for about 2 hours, until the liquid is very flavorful and slightly green. Strain liquid, discarding mint, and transfer to two ice trays, or an 8-by-8-inch baking pan. Place in the freezer, and freeze until solid.
Meanwhile, melt butter in a medium saucepan set over medium-low heat. Add chopped onion, salt, and pepper; cook, stirring often, until onions are soft and translucent, 8 to 10 minutes.
Add stock, and bring to a boil. Reduce heat, and let simmer 1 hour. The liquid will be reduced by about half. Add peas, and cook about 4 minutes, until peas are just tender. Remove from heat, and transfer to a bowl set in ice water. Stir until cold.
Transfer soup to the jar of a blender; process until smooth.
Add 1 cup whole peas.
Adjust consistency with more stock. Chill until ready to serve.
Remove frozen mint ice cubes from the freezer, and place them in the jar of a blender (if using an 8-by-8-inch baking pan, cut ice into chunks). Process the mint ice cubes until they are crushed.
Place soup in bowls topped with a spoonful of crushed mint ice; garnish with mint sprigs, and serve immediately.
The Anonymous Eater http://www.theanonymouseater.com/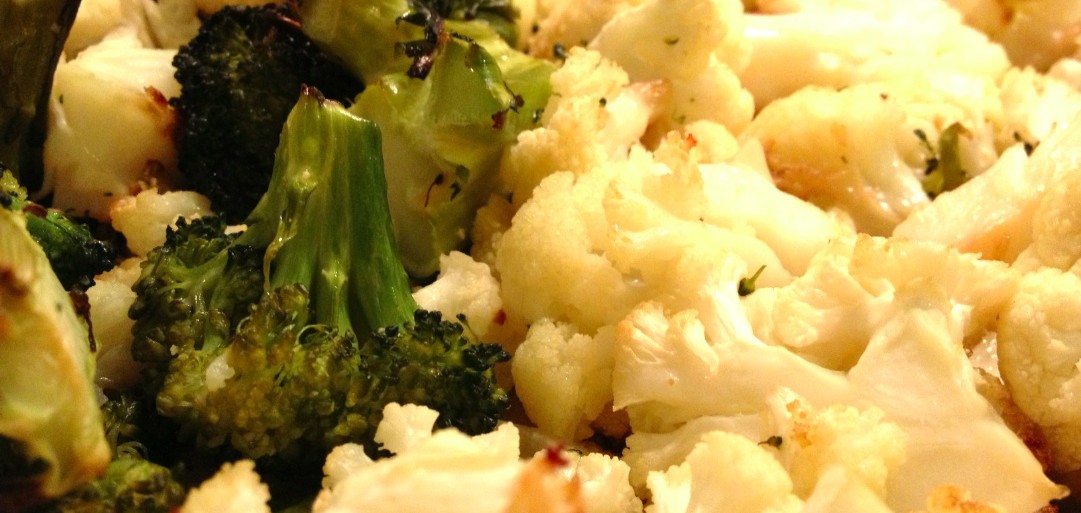 I love my veggies, and there is no veggie in this world that can't be made to taste good by rubbing a little olive oil on it, adding some salt and pepper, and roasting in the oven until it's nice and tender.
Roasting a vegetable adds a whole other layer of depth. If you cook them long enough at 350 degrees, they caramelize in the olive oil and take on an almost nutty flavor. They're also filling and healthy. I'm not sure if it's the touch of olive oil or not, but they taste so much more substantial to me than a raw veggie, even the ones coated in dip.
I usually make a pan or two of roasted vegetables a week. I keep them on hand for meals, and for snacking. The next time you're craving something substantial or sweet, try this recipe instead, and see if it doesn't fill you up.
Roasted Vegetables
My favorites to roast are broccoli, cauliflower, and string beans. Brussel sprouts, zucchini and corn are nice too.
For every pound of vegetables you roast, toss veggies in 2 tbs. olive oil and salt and pepper to taste.
Place in a shallow pan so vegetables aren't crowding each other. If roasting broccoli, place upside down in the pan so the top doesn't burn.
Place on the middle rack of an oven preheated to 350 degrees.
Roast for half an hour or until desired tenderness is reached.