Posts Tagged 'Books'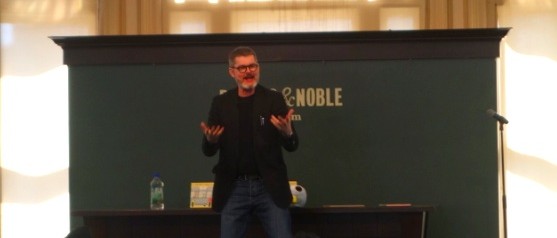 I was back at Barnes and Noble today with Luci and John to hear Mo Willems read a book, and then sign ours! (Is it weird that every time I hear his name, I have an impulse to yell, "Mo' money! Mo' money! Mo' money!" Thank you Mr. Wayans. I love you too.)
If you have a child under the age of six, you must be familiar with Trixie and her adventures with Knuffle Bunny. The books are a great read, and the illustrations, superimposed on photographic backgrounds, make the story so engaging.
I will tell you a secret. I sobbed my way through the last Knuffle Bunny book. I won't give away the ending, but Trixie is gown up, and has a child of her own, with a Knuffle Bunny of her own, and oh my god, where are the tissues?
A long time ago, at least a long decade and a half, I fell in love with another children's book writer and illustrator named Maira Kalman. She still stands out to me, with those words of hers, and those illustrations, so different than anything else I can think of. Her book Swami on Rye has one of the best titles ever, and when I showed it to my friend from India, he couldn't stop turning the pages. "She really captures it," he said. "The colors, and the voice, and just the way we do things back home." This was a twenty-five year old guy without kids saying this, so you know it must really be good.
Do you ever have dreams that leave you feeling so happy, when you wake up you just want to crawl back inside them? That's how I feel after reading one of Maira Kalman's books.
If you have a little time, check out her TED talk here. So much wisdom. So much color.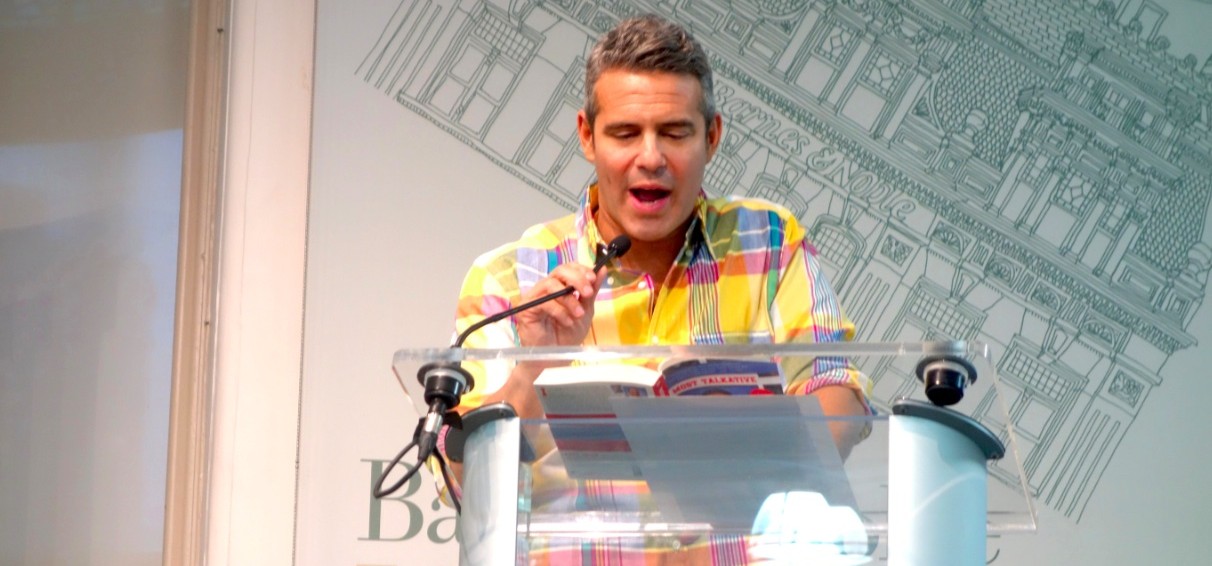 Last night I met Andy Cohen, star of Bravo's Watch What Happens Live. I love this late night talk show. Do you ever watch it? His guests are more candid than on the network talk shows (although I love Letterman too), and I find him adorable on Morning Joe. I would love to be there during a conversation between him and Anderson Cooper. Not as in be there as a fly on the wall, but actually be there to talk to them both.
Andy's book, Most Talkative, is now out in paperback and he hosted a signing at my local Barnes and Noble. I didn't think there would be any geeks like me getting there early, but when I arrived way before it started there was already a line.
Immediately, I began discussing the Housewives with the people in front of me, including a man in a pink suit and two stunning woman who looked as excited as I did.
I started watching Bravo when Luci was born and I was up all night, making it through those first grueling months of motherhood. The Housewives infused comic relief into my sleepless nights, and Andy Cohen was an odd source of comfort.
"I've seen the same episodes several times," I admitted to the people in line. Bravo is fond of repeats.
"So have we," the stunning women replied in unison.
"Do you want me to act any of them out for you?" the one with amazing hair asked. She was serious.
I texted John. "I am among my brothers and sisters."
The talk was great. Andy was funny. And I have the pictures to prove it.
Now I can't wait to read his book. I'm currently reading Bossypants, by Tina Fey. I didn't think it was possible to love her any more than I already do. But guess what? It is.