Posts Tagged 'Bubbie'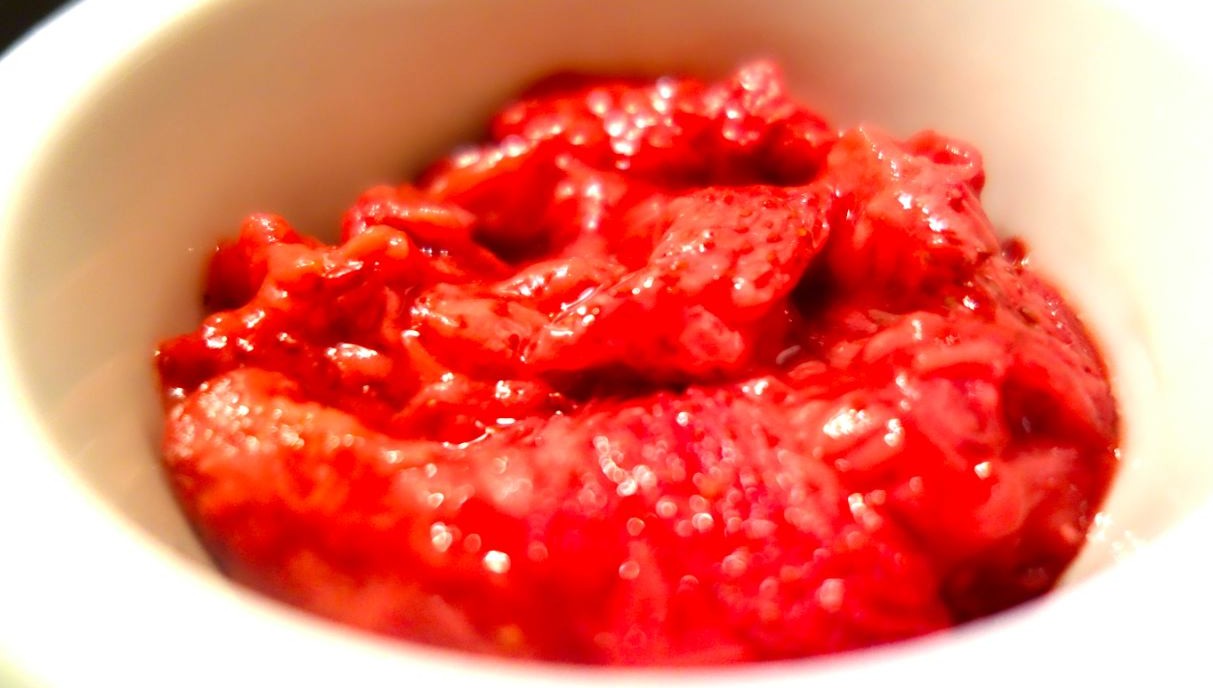 Our pediatrician told us toddlers are grazers, but last night at dinner I watched my daughter re-enact The Very Hungry Caterpillar.
She started with the top of a broccoli tree chopped up, then asked for another. Three broccoli trees later, she managed to put away Bubbie's brisket and half a small chicken breast. It was still hot from the broiler, and I'm not kidding, this child could barely wait for it to cool.
Last night John was working late. I was making whole wheat pasta for him while feeding Luci dinner, and of course she wanted some of that too. I rinsed strands of spaghetti under the sink so they wouldn't burn her mouth, scorching my hands in the process. I put them in front of her and cut them up.
My mother and I frequently talk on FaceTime in the evenings when John works or goes to art class. As we went from broccoli to pasta, I saw the gamut of her expressions begin at proud, and slowly morph into concern, as Luci kept asking for "More! More!"
"She must be going through a growth spurt," my mother said.
"Whatever it is, she's hungry," I replied, going to the sink to rinse more pasta.
I sat down with Luci again, trying to finish my own dinner. "More! More!" she yelled.
I offered her some pasta. She shook her head.
"Chicken?"
No again.
"How about dessert?" my mother said, from her seat at the kitchen table in Baltimore where we'd spent a good part of our trip last week.
"Please don't say the c word," I cautioned her.
It's not that cookie is a bad word in our house, but after eating such a healthy meal I just couldn't bring myself to give Luci an animal cracker, her standard dessert fare.
"How about some berries instead?"
Luci nodded.
I opened the fridge and took out the blueberries and strawberries. The strawberries especially were looking a little dry.
I still cut up several, and put them on her high chair tray along with a handful of blueberries. Bubbie, proud again, watched her granddaughter go to town.
Not wanting to waste the rest of the fruit, I put it in a small pot with a cup of water, 1 tsp. brown sugar, and a squeeze of lemon juice.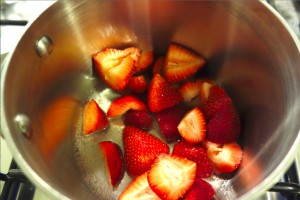 I boiled it down to a compote, which Luci enjoyed on her toast this morning. You can add a bit more white or brown sugar to suit your taste.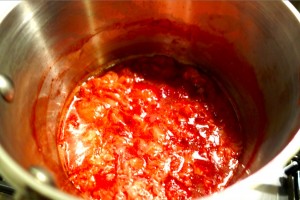 This dish was cooked spur of the moment, as most of my food recycling recipes are. If you have any good tips for preserving food that's about to go bad and turning it into a completely different, delicious dish, please post in the comments section. Food recycling doesn't get enough attention, and it's a great way to use up leftovers.
Luci and I came home on the train today. My mother took us to the station. She is not allowed through the doors to the platform anymore.
Back in November, she was allowed on the platform, and she came down to help me and Luci. She even boarded the train to make sure we were situated. Those simple things like finding a seat become much more of a juggling act when there's a baby involved. It was sweet of my mother to help, and would have made things much easier, except for the fact that before she got off, the train started moving.
Poor Bubbie. The look on her face when she realized the train was in motion. It reminded me of when I was first learning to drive and lost control of the car during a flash flood. Her hand went to her heart, and there was a look, which I can only describe as trapped disbelief. It was a look I hoped never to see again.
We called Zaidey to tell him she wouldn't be coming back to the car for about, oh say another two hours. She had to go to Delaware first, where she could get off this train and on to the next one heading to Baltimore. At least they didn't make her buy a ticket.
Once she realized there was no getting off, my mother settled onto her seat, a delighted Luci on her lap. I snapped a photo and texted it to my family. "What's wrong with this picture?" I wrote.
My brother replied away. "Mom forgot her coat?" he suggested.
"And the rest of her stuff," I replied, "because she's not supposed to be on the train."
We had a bag of food from Edmart to sustain us if need be, so the situation wasn't totally hopeless. I wish I could say the same for Zaidey in the parking lot.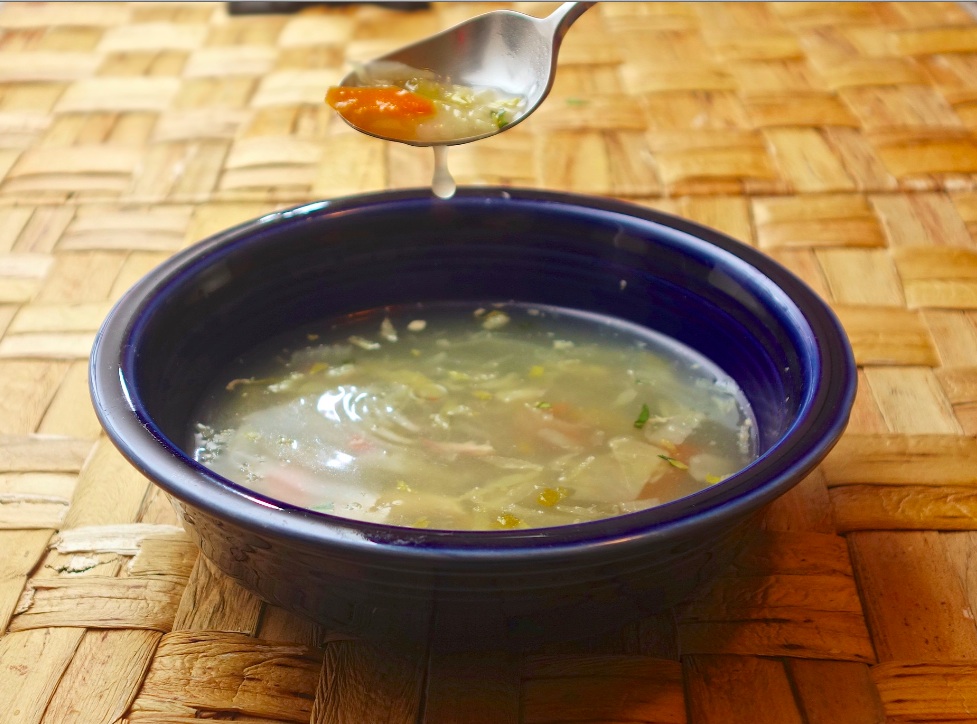 We arrived in Baltimore yesterday and my mother has already commandeered all of Luci's time. Luci calls her Bubbie, which is pretty funny because she looks more like a hamisha Michelle Pfeiffer than she does a bubbie.
This holiday is a little sad since it's the first one we're celebrating after my grandmother, Bubbie's mother, passed away. She was a presence in our family, even when she was ill. I can't remember a holiday until recently when she didn't cook, and I can't remember a holiday where I didn't see her across the table. What better way to honor her than make her famous chicken soup?
My grandmother made the best chicken soup. I know everyone says that about their grandmother, but hear me out. She had two tips for making it, which I will share along with her recipe. But first, I must caution that in order to make the soup, you must be In The Mood to make this soup, otherwise it will come out tasting lopsided. I'm not kidding. It's the same way that feeling amorous makes a kiss infinitely more passionate. Being In The Mood to make this soup is like another ingredient. It's almost as if the chicken and carrots know when you're just throwing them into the pot to impress someone with how you make soup, as opposed to being In The Mood, and cooking it tenderly in anticipation of a warm gathering. You have to cook it with that kind of feeling, and the soup will be twice as good. Trust me.
I'm excited to share this recipe. I've never believed in keeping recipes secret. You can give ten people the exact same recipe, and it will come out tasting ten different ways. Anyway, I never got the point of keeping something tasty all to yourself.
So, here you go, this is Ruthie's Famous Chicken Soup.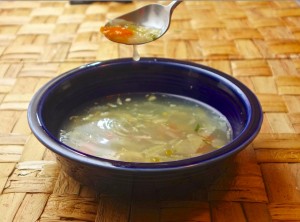 Ruthie's Famous Chicken Soup

2013-04-11 22:10:39

Ingredients

1 2–4 lb. Kosher chicken (If you like chicken salad I suggest getting a chicken on the meatier side and making my chicken salad recipe with the leftovers.)

4 tbs. Croydon House instand soup mix

6 Carrots

6 Stalks Celery

1 Large Onion

A spring each of parsley and dill

Instructions

Put all the ingredients in a large pot of water. Bring it to a boil. Cover and let simmer all day so the flavors get married in the pot. It's a mitzvah to see them get married.

As mentioned, letting the soup simmer all day is one of my grandmother's tips for making great soup. The other tip is to remove the chicken, and use a stick blender in the pot until the vegetables are chunky before pulling the meat off the bone and putting it back in. The carrots and celery add a rich color, and the soup becomes slightly thicker.

And here is a tip of my own. Add some barely cooked spaghetti instead of traditional egg noodles. The al dente firmness holds up well when sitting in the bowl.

The Anonymous Eater http://www.theanonymouseater.com/

There will likely be a lot of chicken leftover even if you like a good amount in your soup. Since I subscribe to the theory cook once, eat at least three times, later this week I will share the best chicken salad recipe ever. And that's saying a lot.