Posts Tagged 'Chicken'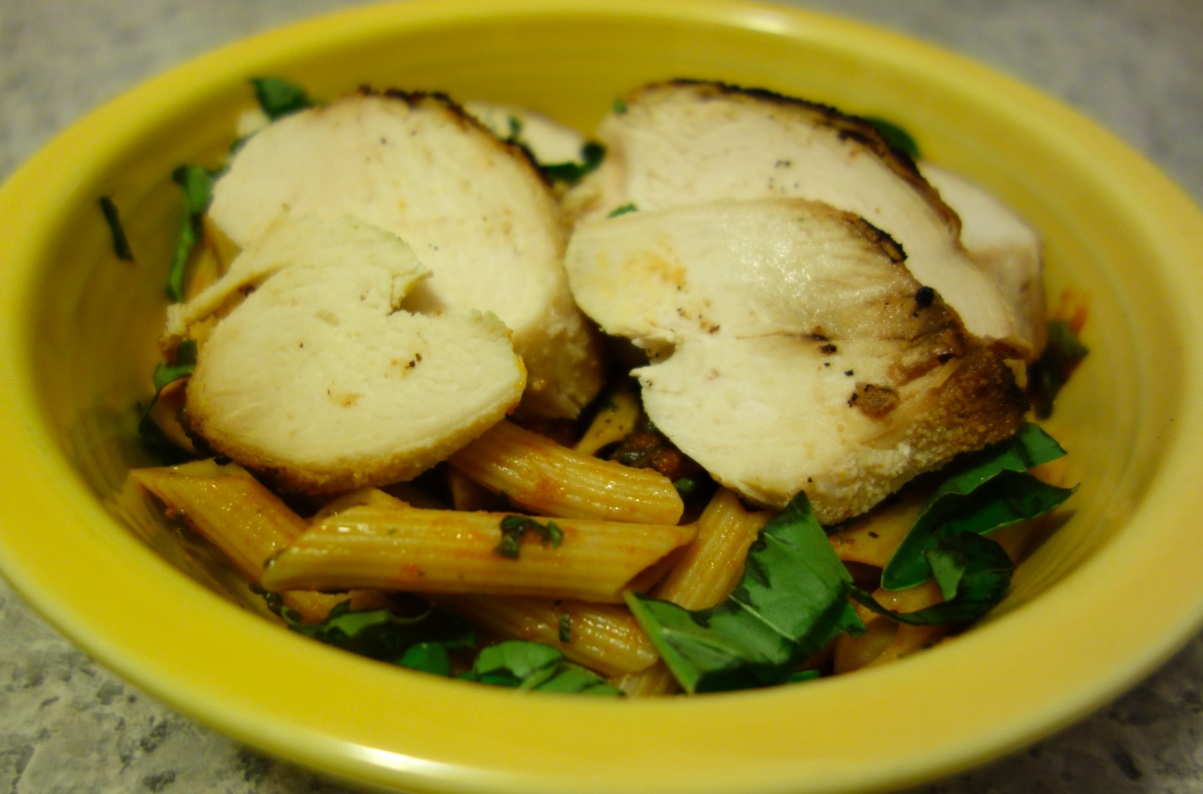 This morning started out chilly, and then the weather turned warm. We went to the park, where John and I chased Luci around for three hours. I'm not exaggerating. She slept the whole afternoon.
I got a little break too, but not before making dinner. In about half an hour I prepared this meal, which was so good, and so easy.
First I chopped some basil, then stirred it in to tomato sauce from a jar. I do feel like I'm cheating a little when I use pre-made sauce, but after a lot of meditation on the subject, I've come to accept that I cannot make everything homemade. I used a plain tomato sauce from Trader Joe's. They have a ton of varieties, and I recommend trying them all until you find your favorite.
While the sauce was cooking, I boiled whole wheat pasta. I like my pasta al dente. As soon as it was past the point of no longer crunchy, I drained it and tossed it with the sauce. Then I sliced the leftover grilled chicken, and placed it on top along with some more fresh basil.
Dinner was delicious. But for me, the best part was being able to make it while Luci was sleeping, and then getting my own little moment to myself.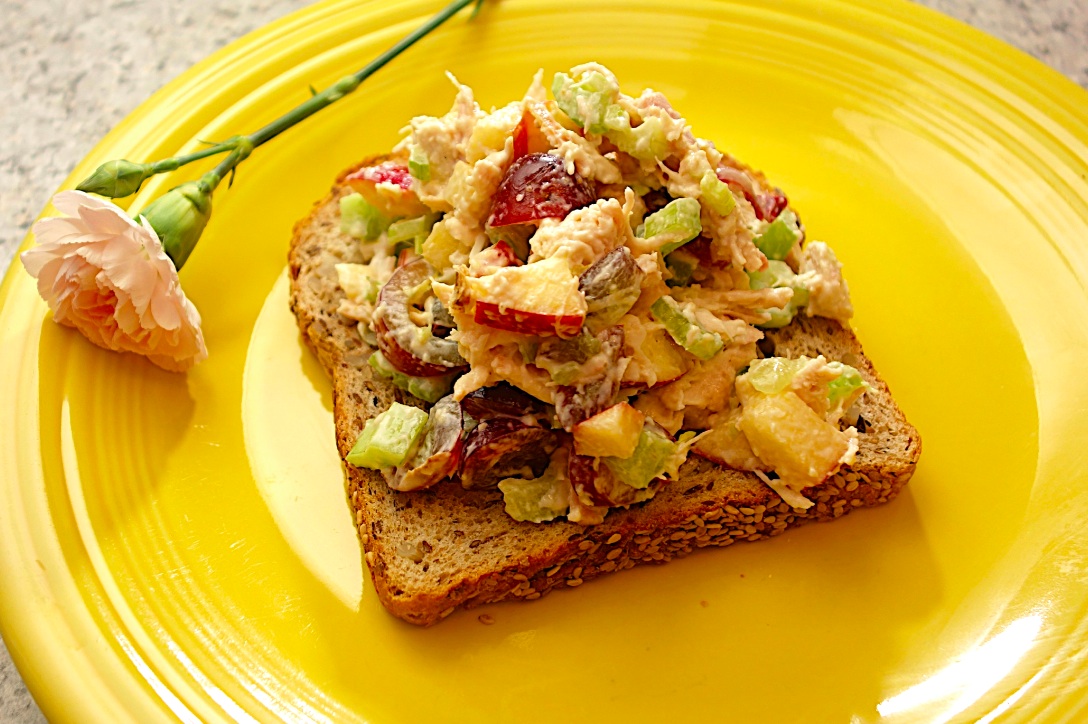 Earlier in the week I posted my grandmother's chicken soup recipe. One of the secrets to her soup is simmering the chicken in the pot all day. It adds a rich, layered flavor that goes beyond the bullion soup starter. I believe this is the only way to coax the flavors from the chicken, while giving the soup that certain taste that makes everyone ask for the recipe.
Simmering the chicken for a long time has a dual purpose. It also flavors the meat well, so you don't have to add any spices to the salad. When I make chicken soup, I always get a hefty chicken, just so I have lots of extra meat to make this salad.
What I love about a good chicken salad is that you can really stretch the meat far. It's great for someone (me) trying to lose her baby weight, because it's filled with crunchy vegetables and studded with sweet fruit. Hitting all those different flavor and texture notes is highly satisfying and very filling.
As with all recipes, this is just one variation. It's a great one to experiment with, since you can add the fruit and vegetables you like best, and even blanch or steam them if you don't like raw. This salad always tastes better the second day.
Please share your own take on it in the comments.
Soup Meat Chicken Salad
2013-04-12 09:36:40
Ingredients
3 cups cooked, shredded chicken
1 cup chopped apple
1 cup chopped celery
1 cup sliced red grapes
2 heaping tbs. mayonnaise (I like the kind made from olive oil.)
salt and pepper to taste
Instructions
Mix all ingredients in a bowl and serve.
The Anonymous Eater http://www.theanonymouseater.com/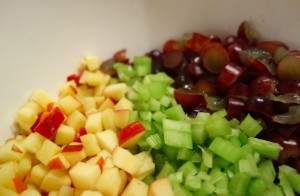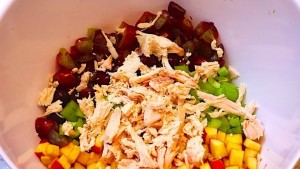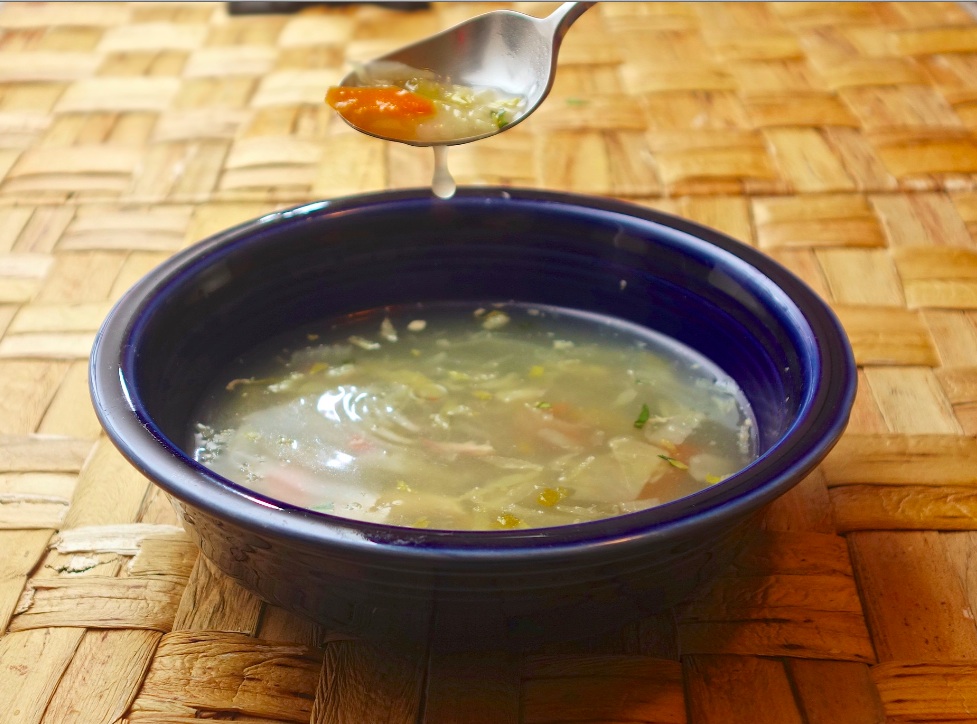 We arrived in Baltimore yesterday and my mother has already commandeered all of Luci's time. Luci calls her Bubbie, which is pretty funny because she looks more like a hamisha Michelle Pfeiffer than she does a bubbie.
This holiday is a little sad since it's the first one we're celebrating after my grandmother, Bubbie's mother, passed away. She was a presence in our family, even when she was ill. I can't remember a holiday until recently when she didn't cook, and I can't remember a holiday where I didn't see her across the table. What better way to honor her than make her famous chicken soup?
My grandmother made the best chicken soup. I know everyone says that about their grandmother, but hear me out. She had two tips for making it, which I will share along with her recipe. But first, I must caution that in order to make the soup, you must be In The Mood to make this soup, otherwise it will come out tasting lopsided. I'm not kidding. It's the same way that feeling amorous makes a kiss infinitely more passionate. Being In The Mood to make this soup is like another ingredient. It's almost as if the chicken and carrots know when you're just throwing them into the pot to impress someone with how you make soup, as opposed to being In The Mood, and cooking it tenderly in anticipation of a warm gathering. You have to cook it with that kind of feeling, and the soup will be twice as good. Trust me.
I'm excited to share this recipe. I've never believed in keeping recipes secret. You can give ten people the exact same recipe, and it will come out tasting ten different ways. Anyway, I never got the point of keeping something tasty all to yourself.
So, here you go, this is Ruthie's Famous Chicken Soup.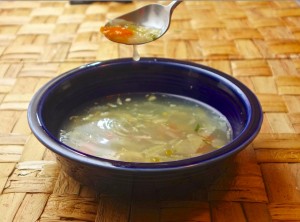 Ruthie's Famous Chicken Soup

2013-04-11 22:10:39

Ingredients

1 2–4 lb. Kosher chicken (If you like chicken salad I suggest getting a chicken on the meatier side and making my chicken salad recipe with the leftovers.)

4 tbs. Croydon House instand soup mix

6 Carrots

6 Stalks Celery

1 Large Onion

A spring each of parsley and dill

Instructions

Put all the ingredients in a large pot of water. Bring it to a boil. Cover and let simmer all day so the flavors get married in the pot. It's a mitzvah to see them get married.

As mentioned, letting the soup simmer all day is one of my grandmother's tips for making great soup. The other tip is to remove the chicken, and use a stick blender in the pot until the vegetables are chunky before pulling the meat off the bone and putting it back in. The carrots and celery add a rich color, and the soup becomes slightly thicker.

And here is a tip of my own. Add some barely cooked spaghetti instead of traditional egg noodles. The al dente firmness holds up well when sitting in the bowl.

The Anonymous Eater http://www.theanonymouseater.com/

There will likely be a lot of chicken leftover even if you like a good amount in your soup. Since I subscribe to the theory cook once, eat at least three times, later this week I will share the best chicken salad recipe ever. And that's saying a lot.