Posts Tagged 'Cookies'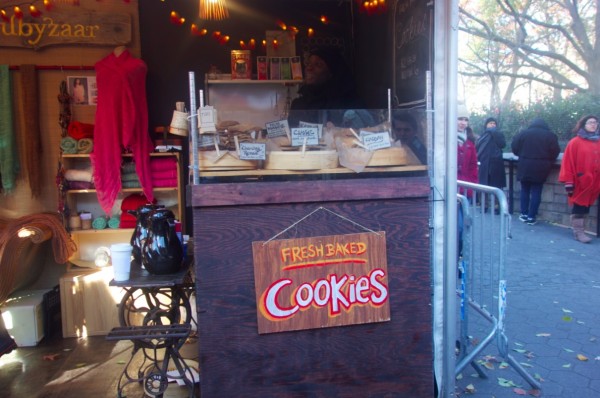 I'm the Jewish girl who loves Christmas. It's not the holiday itself that gets me, it's the days leading up to it. I love the lights that slowly begin twinkling this time of year, and the decorations that start coming out. I love the music, and I especially love the live carolling that takes over the city. I become inexplicably blissful at a chorus of voices praising Rudolf and chestnuts and grandma. (Stay tuned next week for pictures from the Hannukah House. I have to give props to my tribe too.)
I actually became teary last year when I heard a group in Union Square singing Snow from White Christmas. Do you know this song? Do you know the movie? It's one of the best musical numbers of all time, Bing Crosby, Danny Kaye, Rosemary Clooney and Vera-Ellen, sharing drinks as they sing about snow on the train to Vermont.
And there is something else I love about this time of year, because this is when the Union Square Christmas Market opens. This collection of shops and specialty food vendors may be one of the last authentic markets in the city. When you pick up a handmade pair of sheepskin slippers at the Christmas Market and it says Made in Peru on the bottom, you can bet they don't mean Peru, China. Nope, those slippers were definitely made from wool shorn from a sheep in the Andes, and hand sewn by a craftsmen who probably raised her up from the time she was a little lamb.
The market also features one of my favorite shops, Rubyzaar. They sell beautiful hand-knitted products made by fair trade practices. Really, their scarves and shawls are works of art. Which is nice if you're into that sort of thing. I am, but it's not the reason I go. I shop at Rubyzaar for The Cookies. I wait all year for them, and judging from the flock of people gathered around the booth on opening day Thursday, I'm not the only one.
Rubyzaar is better than the Girl Scouts. The Girl Scouts claim you can only buy their cookies once a year. Does it make a Samoa that much tastier to know you can only get a fresh one in March? Why yes, I believe it does. Does that taste diminish when you can go on Ebay in June and find a box of Samoas for under ten bucks? Why yes, I believe it does.
Rubyzaar, on the other hand, makes their cookies fresh nightly, and trots them out for sale at the Christmas Market between Thanksgiving and Christmas and then, THAT IS IT, it's too bad if you've become addicted, you will just have to suck it up and wait until next year to eat them again. (In case you were wondering, I've tried but they just don't taste the same after you've defrosted them several months later, after a particularly bad bout of PMS, when no ordinary chocolate will do.)
Nevermind that you can shop at Rubyzaar in Brooklyn Heights all year around. If you go in and wink and ask for The Cookies, you will be met by blank stares and, and "I'm sorry, we don't sell food here, but we have some great fair trade scarves available for purchase. In July. But cookies? Uh uh." That is the genius of Rubyzaar.
So, starting last Tuesday, when I saw the markets being assembled, I began texting photos of the work in progress to my friend Zoe in Maine. Look, they're back. The Christmas Markets are going up. THE COOKIES ARE ALMOST HERE.
And then, with all the excitement of what I imagine a four year old exhibits on Christmas morning when she sees the presents under the tree (I wouldn't know, since Hannukah wasn't that big of a present deal in our house), I show up at the Rubyzaar booth on Thursday, the day the markets open.
The very nice saleswoman greets me. "Check out our scarves. They're made by fair trade practice, and crafted from one hundred percent organic material."
"Yes, that's lovely. Where are the cookies?"
"The cookies? Oh yes, so we got a new oven, and they'll be here tomorrow. Hey, did you see our new scarves?"
Take note, Girl Scouts. This is how you sell them.
I had to wait one more day, which made my Casbah cookie (dark chocolate with a hint of mint), that much better.
Rubyzaar has about ten different flavors of cookies. Of course I have my favorites, which I will highlight over the next few weeks. I've also deconstructed them over the past year, and made my own attempts to recreate the recipe. I will share my version with you too, though it's not as good as the first cookie of the year, eaten on a Friday morning for breakfast.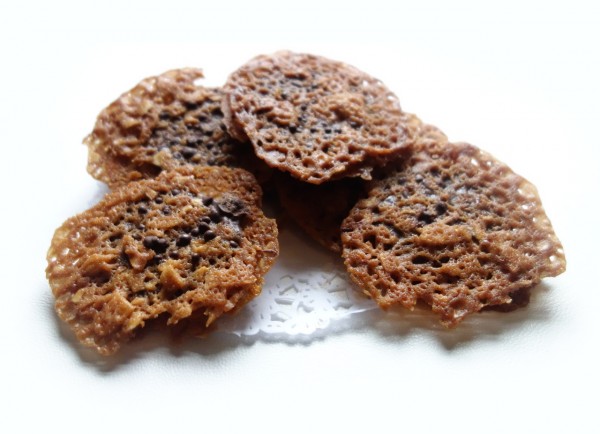 This weekend I am giving you three great Italian recipes in three days.
This recipe comes with a particularly good story.
The first year I knew my husband, before he was my husband, I already knew I was in love. I actually thought so as soon as I met him, but there was a moment soon after that confirmed it.
One hot summer evening, John (whom his family calls Giance, for Gancarlo, and most of his friends call JC) had to pick up something he'd been storing in his mom's garage (I can't remember what it was now, but maybe after he reads this post it will refresh his memory), and he invited me to come along. This was a very big deal.
I'd only met his mother once before. Also, I'd never been to her house. So that evening, as the sun was setting, we drove out of Manhattan and into Queens.
When we got there, John got busy doing whatever man thing he needed to do in the garage, and his mother took me on a tour of the house. I was most excited to see his old bedroom, the place where my future husband (yes, I thought of him that way even then), had slept and dreamed, and possibly, even dreamed of me.
At that time, Lil and I were still on formal ground. I remember looking around the room, and from the corner of my eye, I could see her gauging my reaction as I studied the framed family pictures she put on his old desk, and John's old belongings. At last my eyes rested on the wall, where there hung a framed letter from the astronaut Alan Shepard. As I read the letter, Lil told me that it was a response to a letter John had sent him, complete with illustrations. My husband is an artist, and even back then, Lil said, his talent was apparent.
I cannot begin to explain how touching I found it that John wrote to his hero, and I could imagine the hopeful excitement he felt when a letter arrived for him in the mail several weeks later, with Alan Shepard's name on the top left side of the envelope. I imagined my husband as a little boy ripping it open and pulling out the note to read it.
I just wanted to break down right there and confess to Lil, "I love your son so much. I promise I will take good care of him. Really, you don't have to worry."
But, I couldn't say any of that. It was too soon. What I could do though, was show her.
Soon enough I was invited to her house again, this time for dinner. Determined to impress, I researched Italian cookie recipes and found this one for Florentines. I spent an afternoon baking, and then arranged the cookies on a pretty plate to take for dessert.
Lil is a smart woman. I knew when she saw me bringing homemade cookies, homemade Italian cookies, she'd be on to me. And really, that was just fine. She could infer what she wanted. She would probably be right.
Almost ten years later, I am still fond of these Florentines. The thin, delicate cookies pack a surprisingly big crunch, and the zest of orange and chocolate do the tango in such a way as to compliment, but not overpower, each other. Sort of like me and John. The cookies look fancy, but are not all that hard to make. Some good parchment paper or a Silpat mat are the only extravagant tools you need.
Now that John and I are married, and we have a family of our own, these Florentines still come in handy. If I find myself exhausted, and irrational at times, as is easy to feel when you are tired, stressed, and have small children, I think of that night at his house when I first saw his old bedroom. Imagining the little boy he was then, the excitement that prompted him to send an illustrated letter to his hero, somehow calms me, and keeps me from flying too far off the handle. Not always, but usually.
As for the Florentines, they can also be quite romantic. After all, they're made of lace.
Florentines
2013-04-15 14:44:18
Ingredients
1 3/4 cups sliced, blanched almonds (about 5 ounces)
3 tablespoons all-purpose flour
Finely grated zest of 1 orange (about 2 tablespoons)
1/4 teaspoon fine salt
3/4 cup sugar
2 tablespoons heavy cream
2 tablespoons light corn syrup
5 tablespoons unsalted butter
1/2 teaspoon pure vanilla extract
1/4 cup finely chopped chocolate pieces
Instructions
Position a rack in the center of the oven and preheat to 350 degrees F. Line a baking sheet with a silicone baking mat or parchment paper.
Pulse the almonds in a food processor until finely chopped, but not pasty. Stir together the nuts, flour, zest and salt in a large bowl.
Put the sugar, cream, corn syrup and butter in a small saucepan. Cook over medium heat, stirring occasionally, until mixture comes to a rolling boil and sugar is completely dissolved. Continue to boil for 1 minute. Remove from heat and stir in the vanilla, then pour mixture into almond mixture and stir just to combine. Set aside until cool enough to handle, 30 minutes.
Scoop rounded teaspoons (for 3-inch cookies) or rounded tablespoons (for 6-inch cookies) of batter and roll into balls. Place on a baking sheet covered with parchment or a Silpat mat, leaving about 3 to 4 inches between each cookie since they spread. Sprinkle with the chocolate.
Bake 1 pan at a time, until the cookies are thin and an even golden brown color throughout, rotating pans halfway through baking time, about 10 to 11 minutes. Cool on baking sheet for 5 minutes, then transfer to racks to cool. Repeat with remaining batter. Serve.
Adapted from Food Network
The Anonymous Eater http://www.theanonymouseater.com/