Posts Tagged 'Great deli'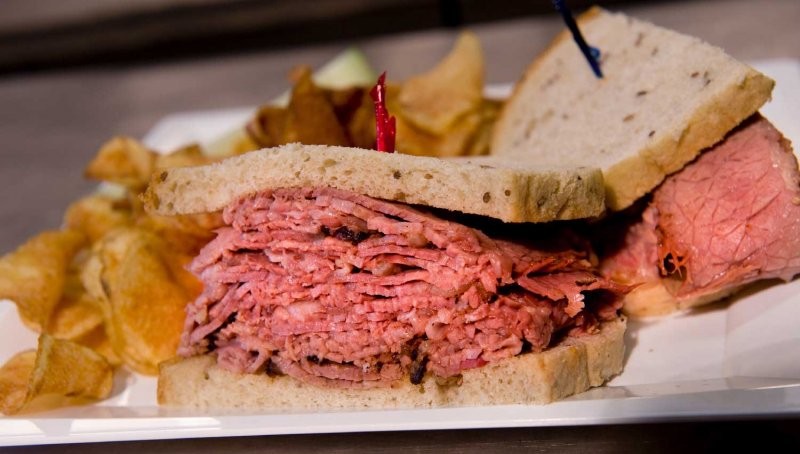 Baltimore has a lot of great restaurants. I mean, a lot. I never realized growing up how spoiled I was in the food department. Wait, maybe that didn't come out right. Anyway, when I went to college and after, travelling around the country and living in different cities, I noticed most of the time there was a difference between the food I was eating, and the food I grew up on. [There are some exceptions to this rule. California has amazing Mexican food, and I had the best Thai of my life in Minneapolis.]
I believe part of the reason for this is that you tend to love the version of whatever dish you try first. That's why everyone claims their grandmother's chicken soup is the best; It's probably the first one you tasted and the one you got used to. But the other reason I think Baltimore has some of the best food, is because it really does.
When it comes to delis, I'm a pro. I grew up in the business. Edmart Deli, my grandfather's deli, was famous in our little town, and to this day I can't find brisket like he made anywhere else. I know what you're thinking, I live in New York, I should be able to find great brisket on every corner, right? I'm not sure why, but the days of the great New York deli are as far behind us as the days of coffe shops on every block and real Italian food in Little Italy. Don't get me wrong, we have some great food here in New York, but it's not the same kind of great food we had even 20 years ago.
I spent so much at time at Edmart as a kid, it was like my playground. Now I get to watch Luci play there, as we wait for the countermen to prepare our lunch. She loves taking bags of chips and running around the store with them like she's the boss. Someday she might be.
My mom runs the store now, and she uses the same recipes my grandfather did. Two years ago she got a call from the Food Network. Duff Goldman, star of Ace of Cakes, recommended Edmart for a segment of the show The Best Thing I Ever Ate. The show features chefs from the Food Network eating at their favorite restaurants. Duff grew up on brisket from Edmart Deli, and he came in to the store to film the segment.
The two day shoot was a great experience, connecting us with friends and customers who came in to participate. The producers were enamored by the brisket, and by my mother. She really is that funny. They liked her so much, they asked her to do a reality show and they asked me for story ideas, setting off a year filled with a completely different kind of writing for me. It's a long story in itself and a good one which I will save for a future post.