Posts Tagged 'Stir Fry'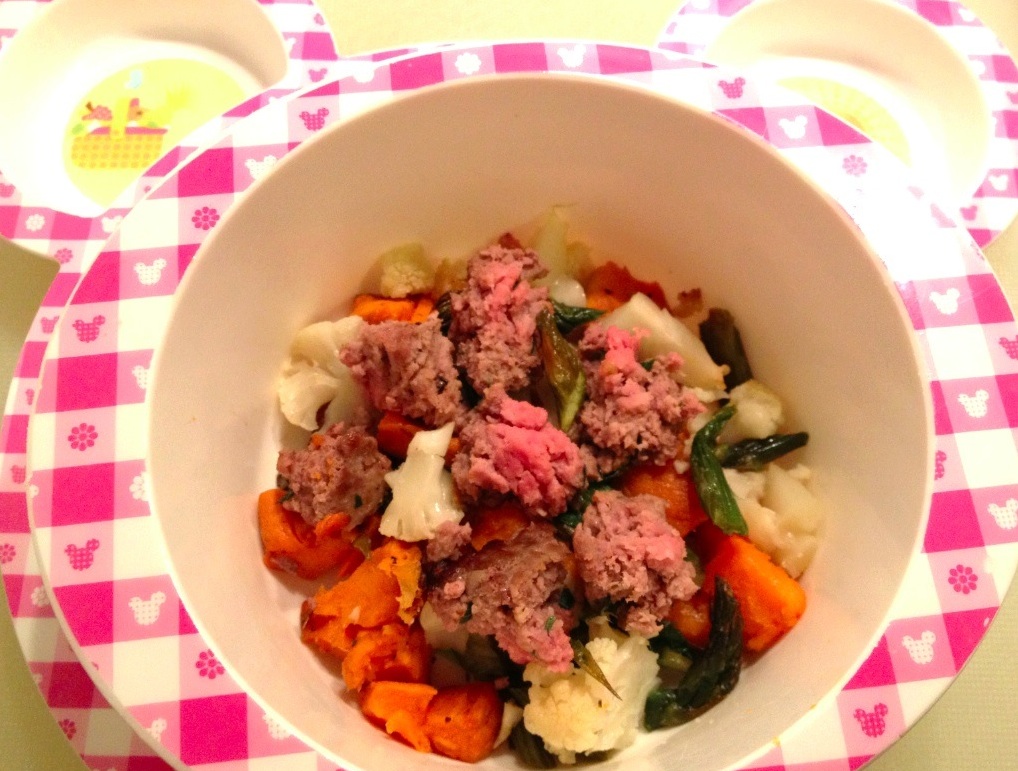 It wasn't long after Luci started solids that I realized there is no better word in the English language than convenience. Yup, I LOVE convenience. The convenience of buying premade jars and pouches of baby food is an especially nice luxury.
I think it took all of two days before I announced I would not be spending time in the kitchen daily to prepare Luci's baby food, and that I would, in fact, be buying the majority of it. I was relived that no one seemed to care. It might also be that no one was paying attention.
Browsing the aisles of my local grocery, I came to learn there are some amazing baby food brands out there. Happy Baby makes pouches of some of the most sophisticated mixes of ingredients. It's stuff that I never would have eaten as a baby, like chicken, vegetables and quinoa. Luci also went crazy for their breakfast smoothie, consisting of banana and mangosteen. Um, I'm embarrassed to admit that I didn't know a mangosteen was a tropical fruit all its own. I thought it was just the longer version of the word mango.
I'm also embarrassed to admit that jars of Earth's Best Chicken Soup still make me nostalgic when I walk by them at the store. All those little bits of carrot and pea just take me back to Luci's days as a baby. Pea was the first food she asked for by name.
But her baby days are over, and as toddlerhood approached, I got my mom groove on a little better, a little straighter. I actually began getting some rest, and once my daughter hit the one-year mark, I was almost feeling like my old self again.
Now this is a completely different topic for a completely different kind of post, but suffice to say, when you start remembering how your life used to be before the baby came along, you realize you're coming out from under that newborn stupor and emerging back into the world. For me, it was like breathing new air. I felt real again.
And feeling like me again meant back into the kitchen I went.
I think my husband was relieved. I would say that when I got pregnant, he got a little bit pregnant with me. Now we're both on track to lose our baby weight, helmed by the healthier meals I'm cooking at home.
One of our favorite dishes pre-baby, were my stir frys. On Sunday nights I used to chop and dice all kinds of meat and veggies, along with lots and lots of garlic and ginger. Then during the week, we'd pop our heads into the fridge Alton Brown style, choose which of the ingredients I'd prepped that we were in the mood for, and throw them into the wok. Add some steamed some brown rice, and you have a delicious meal on the table in about twenty minutes.
I'm starting to do that again, only now I use less oil. I also dice everything a bit finer for Luci's tiny mouth. The quinoa and mangosteen opened the gateway for her to enjoy all kinds of flavors, including the garlic and ginger that are the foundation of every good stir fry.
It's so much fun to put her in her high chair and let her watch the way the vegetables soften in the wok over the heat before we add chicken or beef. We turn up the flame, and we have the music up high too, making the atmosphere warm and inviting. I hope one day Luci will have even vague memories of her first experiences cooking with Mommy.
Making dinner has become a special time for us. One night as I was cooking, she asked for broccoli. I had already steamed string beans, but I took the broccoli out anyway and made her some as a side dish to the broiled chicken, loving how much Luci delighted in contributing to the meal. This gave me an idea.
As Luci's food vocabulary develops, why not have her help prepare her own meals the way I used to prepare stir frys? So now on Sunday nights, in addition to whatever else I'm cooking, I make pasta, brown rice or quinoa, steamed veggies and broiled meats or fish. During the week I ask Luci what she wants for dinner, and she picks out a starch, a protein, and an unlimited array of veggies. We heat them up, put them in her special bowl, and dinner is ready.
I love how this gives Luci a hand in choosing her own meals, and an early start in picking what's healthy and fresh. We make lunch and dinner like this several times a week. Other nights I'm inspired to cook something on the spot depending on a craving me or John might have, or we go out. It's a good balance, and a good way to set up a lifetime for family meals together.