Posts Tagged 'Train'
Luci and I came home on the train today. My mother took us to the station. She is not allowed through the doors to the platform anymore.
Back in November, she was allowed on the platform, and she came down to help me and Luci. She even boarded the train to make sure we were situated. Those simple things like finding a seat become much more of a juggling act when there's a baby involved. It was sweet of my mother to help, and would have made things much easier, except for the fact that before she got off, the train started moving.
Poor Bubbie. The look on her face when she realized the train was in motion. It reminded me of when I was first learning to drive and lost control of the car during a flash flood. Her hand went to her heart, and there was a look, which I can only describe as trapped disbelief. It was a look I hoped never to see again.
We called Zaidey to tell him she wouldn't be coming back to the car for about, oh say another two hours. She had to go to Delaware first, where she could get off this train and on to the next one heading to Baltimore. At least they didn't make her buy a ticket.
Once she realized there was no getting off, my mother settled onto her seat, a delighted Luci on her lap. I snapped a photo and texted it to my family. "What's wrong with this picture?" I wrote.
My brother replied away. "Mom forgot her coat?" he suggested.
"And the rest of her stuff," I replied, "because she's not supposed to be on the train."
We had a bag of food from Edmart to sustain us if need be, so the situation wasn't totally hopeless. I wish I could say the same for Zaidey in the parking lot.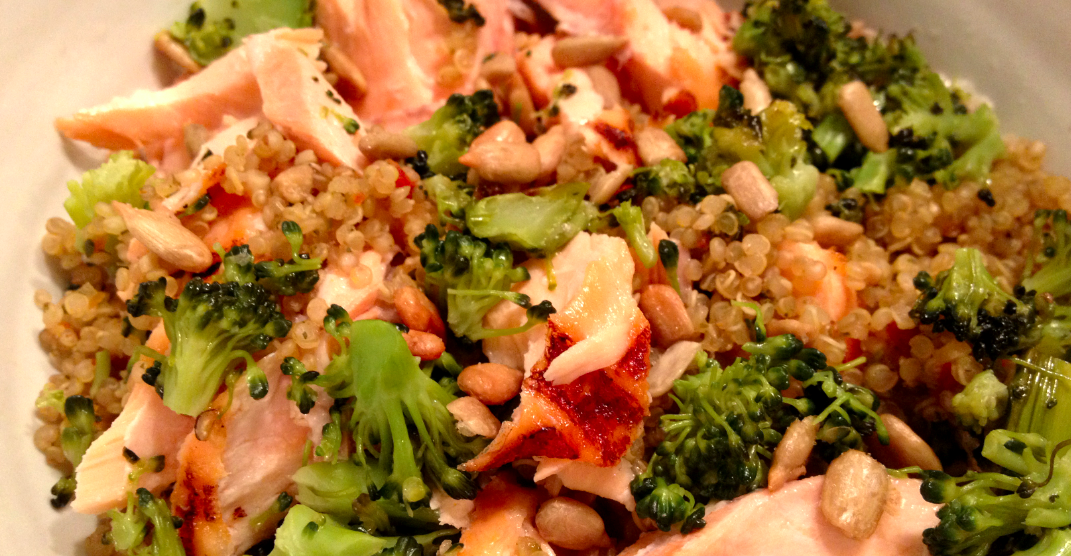 Today Luci and I are taking the train to Baltimore to visit my family for Passover. John is joining us either tomorrow or Monday, depending on when he can get away. I miss him.
Traveling on a train or plane takes careful planning food-wise because once you board, you're trapped. Unless you pack your own sustenance, you're stuck buying stale bags of chips, and if you're lucky, some sort of un-namable cheese product.
Last night I packed lunch using all our leftovers. John always says he will eat them whenever we go somewhere and he has to stay home, but then I get back, open the fridge, and am assaulted by a mess of smelly food that should have been eaten days before. So now I've gotten smart.
In a bowl, I mixed salmon and quinoa from last night's dinner, then threw in some broccoli. After chopping all the ingredients, I tossed in a handful of sunflower seeds to provide some extra crunch. A drizzle of olive oil and a squeeze of lemon juice, and my salad is complete. How easy is that?
I like this dish because it used up everything in the fridge, and I didn't have to go shopping for anything extra. It's also a great dish to take on the road while the weather's still cold. I wouldn't recommend it for a long trip once it warms up outside.
Now if only I could count on the train ride being this easy.